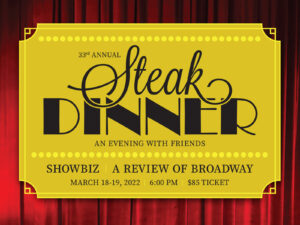 Welcome to the 33rd Annual "An Evening with Friends" Steak Dinner!
This signature event will take place on March 18 -19 at 6:00 P.M. on Procter Court in the Activities Center. Guests will dine by candlelight on a three-course meal. Students from grades 2nd through 12th will provide musical entertainment following the meal. **This year's event will take place over two nights, Friday and Saturday.   
---
Tickets
Steak Dinner tickets are $85 per guest. Tickets can be purchased online through Marketplace or by contacting Kari Batson, at 647-6311. Tickets must be paid for in order to confirm reservation.
Purchase Tickets »
Sponsors
If you would like to sponsor Steak Dinner please see our levels below and contact Sally Allen, sallen@clarksvilleacademy.com or 931-647-6311. There is limited availability for sponsorships.
Silver Level Sponsorship – $1500
Includes 10 tickets with a front reserved table, company logo included in the program, displayed prominently at the event, as well as named in welcoming remarks. The sponsoring company will also receive an exclusive gift.
Blue Level Sponsorship – $1000
Includes 6 tickets with a reserved table, company logo included in the program, on display at the event as well as mentioned in opening remarks.
Cougar Level Sponsorship – $500
Includes 2 tickets to the event and company logo in program.
All sponsorship levels must be received no later than March 1, 2022.