Clarksville Academy – Grades 5-8
Middle School Overview:
The Middle School years are a transformative and exciting time of intellectual, physical, social, and emotional growth. We embrace and celebrate this unique developmental journey, providing the bridge between the self-contained classrooms of Lower School to the challenging endeavors of Upper School.
Our Middle School students enjoy the opportunity to develop their individual sense of identity, confidence and leadership capabilities within our rigorous, college preparatory curriculum. Our curriculum consists of a blend of innovative core and elective courses and are built to foster learning through active experiences and encourages students to become increasingly independent.
Additionally, our outstanding Middle School educators specialize in middle grades education. They are passionate about their content areas, and they are experts in supporting students through the ever-changing cognitive, physical, and personal growth that characterizes the Middle School years.

Middle School Points of Interest: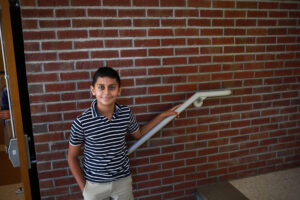 A clear focus on the whole-child, with classes dedicated to the mind and physical body.
Four grades in middle school-5th-8th.
Eight dedicated Middle School faculty members trained in the development of the middle school child.
Clubs and extracurriculars leadership opportunities available–a place for every student to be involved!
12 Athletic teams, but team and individual sports.
Mind/Body Class, Counseling, Organization, PE/Health, and Study Skills courses for all grades.
Daily homeroom classes with a focus on study and organizational skills.
---