Winterim 2023 kicked off on Sunday, January 1. Two groups boarded their flights for Ireland and Iceland. Monday, January 2 another group left for their adventure to south FL. Tuesday, all groups began their Winterim experience. Below you will find a daily recap of each adventure. We hope you will join us on this exciting journey!
---
January 2, 2023
Ireland
Fifteen students and two staff began their travels to the Emerald Isle on January 1. Their arrival to Ireland was early in the day on January 2.
We began our adventure in Ireland on the morning of January 1, at 8:15, which is around 2:15 am, back in the United States. Our jet lag was terrible, and the flight was bearable, but we were encouraged by our guide Edwina to power through and go about our day. As we left Dublin Airport, we walked until we reached our coach. After that, we drove to our hotel, the Academy Plaza, around 20 minutes from the airport. During our drive, we learned a new term, "crack," which means fun or to have great fun in Irish slang. Seeing the street signs with the Irish Gaelic written above and English below was interesting and very helpful for understanding the language (which would be nearly impossible for those unfamiliar with the language).
Our group checked in and, an hour later, set off on our walk around the city of Dublin. We walked around the amazing city for about 3-4 hours, learning about the memorials, architecture, statues, and history. In particular, the information about the National Post Office stuck out to me. The Irish soldiers waited and waited after commandeering their independence (albeit briefly) during the Easter holiday. Then after the holiday, when the Irish were waiting like sitting ducks, the British soldiers arrived, and to say the least, it didn't go as planned for the Irish. Bullet holes from the bombardment are still visible along the street where the P.O. sits, particularly in the pillars at the front of the building and some street monuments.
After we grabbed our first Irish meal, we began our way to the Ireland National Gallery. This gallery contained some of the most exquisite pieces I have ever seen, such as "The Marriage of Stronghold" and "The Song of the Mad Prince."
Then we walked around the corner to the National Museum of Ireland Archaeology and History, which held what I found to be highly fascinating bog bodies. Which outsiders may find odd, but Ireland sure doesn't. Ireland has numerous bogs that contain artifacts, such as jewelry and, in this case, bodies. The bog preserved the bodies for centuries, kind of like Egyptian mummies. The bodies are now located in the museum, but only after years of taking a thick swim in the bog.
To fill our growling stomachs after a long day, we walked to, arguably, the oldest pub in Ireland, dating back to 1198, The Brazen Head Pub. I had amazing chicken and mashed potatoes, and others enjoyed traditional Irish Stew. Then we ended our night after falling asleep at the dinner table due to jet lag, with a 30-minute walk back to the hotel. — Ella Childers, 10th Grade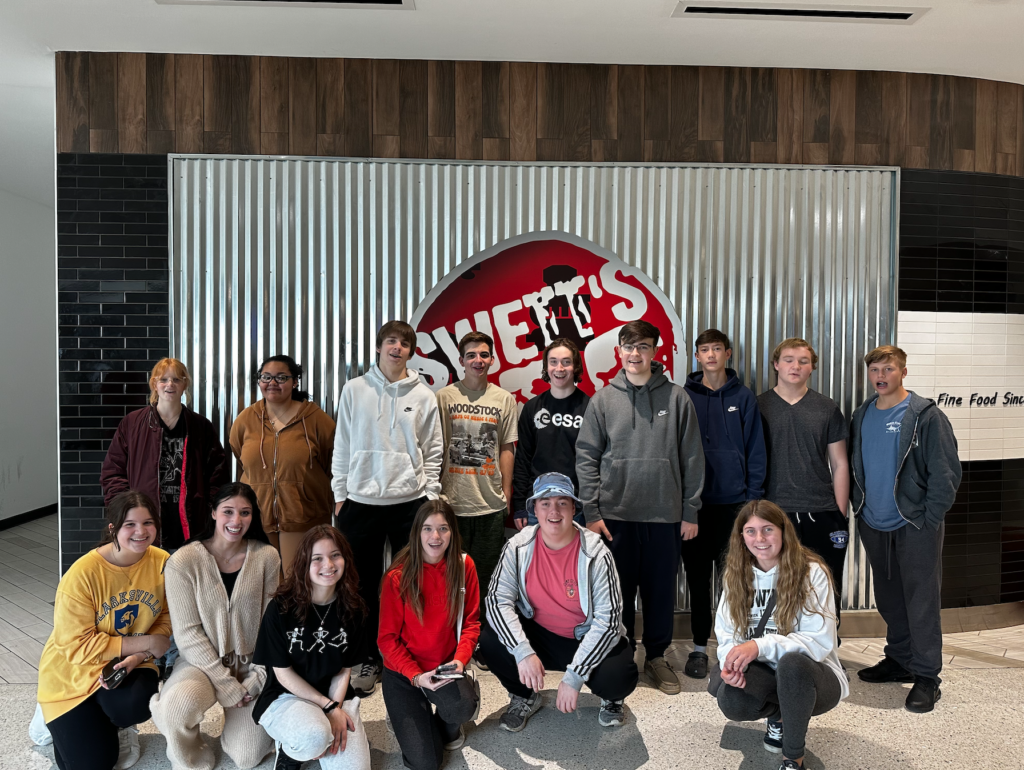 ---
Iceland
Twenty-three students, two teachers, and three staff with UK International Sports Tours left Nashville yesterday for the trip of a lifetime! Upon arrival, the group immediately began exploring. Their adventure started with a 'Golden Circle Tour.' They first went to Þingvellir National Park and walked between two continents over the tectonic plates. Iceland is divided by the Mid-Atlantic Rift; some parts, such as the Westfjords and Reyjavík, are on the North American tectonic plate, while others, such as Vatnajökull glacier and the East Fjords, are on the Eurasian plate. Iceland is the only place in the world where this rift is above sea level, and nowhere can you see the edges of both plates as clearly as in Þingvellir… and walk between them.
They followed this with visits to the Strokkur Geyser and the amazing Gullfoss Waterfall. They ended the day with a wonderful meal and a good night's sleep!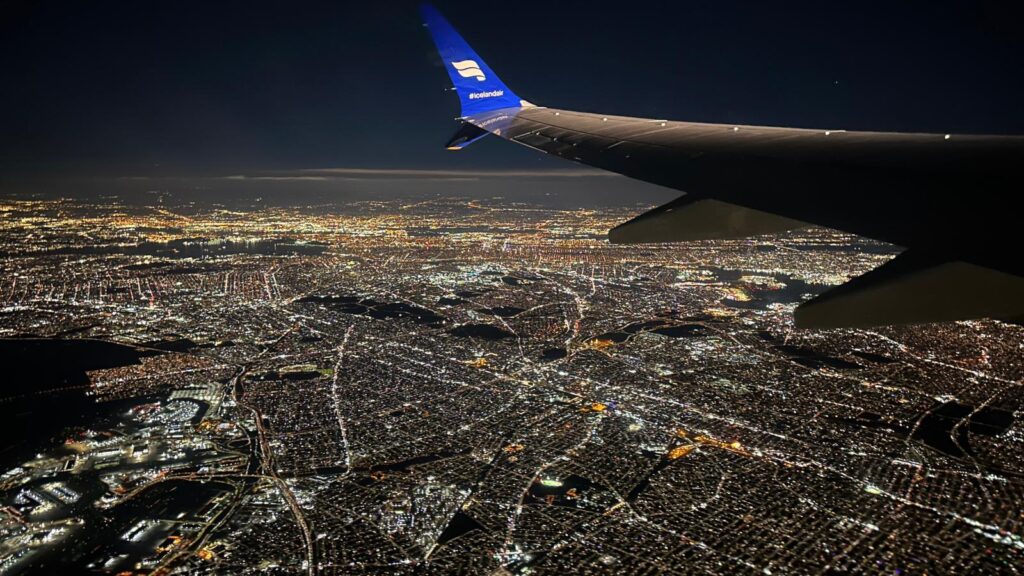 ---
Orlando
Arriving at the Nashville Airport, some of CA's finest students started their Winterim trip at 5:00 am with a lovely flight to Orlando. Our Course Leader picked us up and off to Universal Studios for a day of fun and adventure! All had roller coasters and other fun rides. The adventure is only beginning!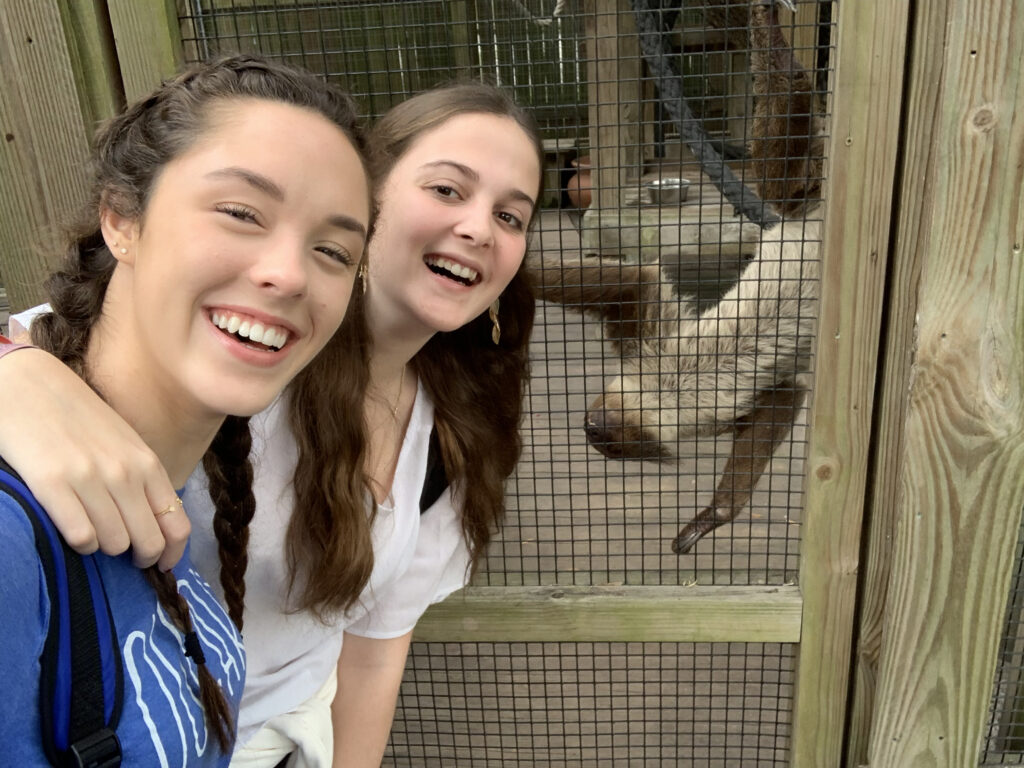 ---
January 3, 2023
Culinary Fun
Today in culinary, we made pizza from scratch! We were able to cut our toppings like mushrooms, peppers, and onions! We even cut lettuce to make our side salad! Then we would sauté the meat and the other toppings we cut, so they were cooked and ready to go on our pizza. We then had to roll out our dough. Each student got a piece of dough and used a roller to roll the dough thin or thick. You could even make it into any shape or form you would like! We then put sauce and toppings on the pizza, popped it into the oven, and enjoyed the yummy meal! — Neveah Brooks, 10th Grade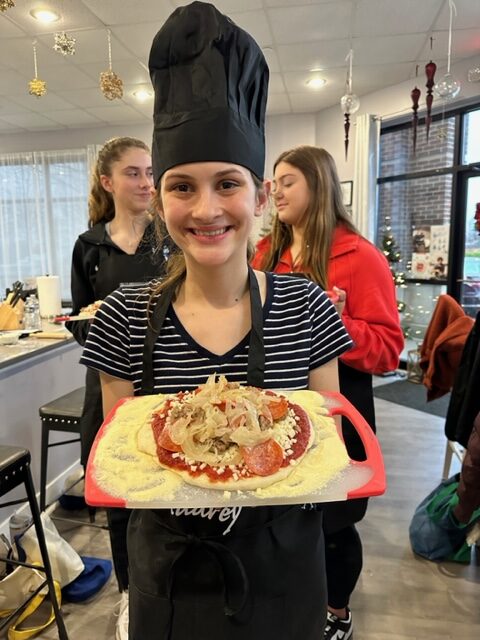 ---
Music City
Today was a fun day discovering Downtown Nashville. We hopped on a bus and began with a guided tour which included the Parthenon, Centennial Park, the TN State Capitol and much more. This tour also included stops at the Ryman Auditorium and The Country Music Hall of Fame. Our tour guide was so knowledgeable about the history and passed along great trivial facts we did not know already. Did you know that the number one industry in Nashville is the medical field with over 500 health care companies?! That's right, the music and entertainment industry is 2nd to the medical industry. We finished the day with an amazing lunch at the Assembly Food Hall. The eatery was packed with a variety of food and dessert choices including Nashville's famous hot chicken!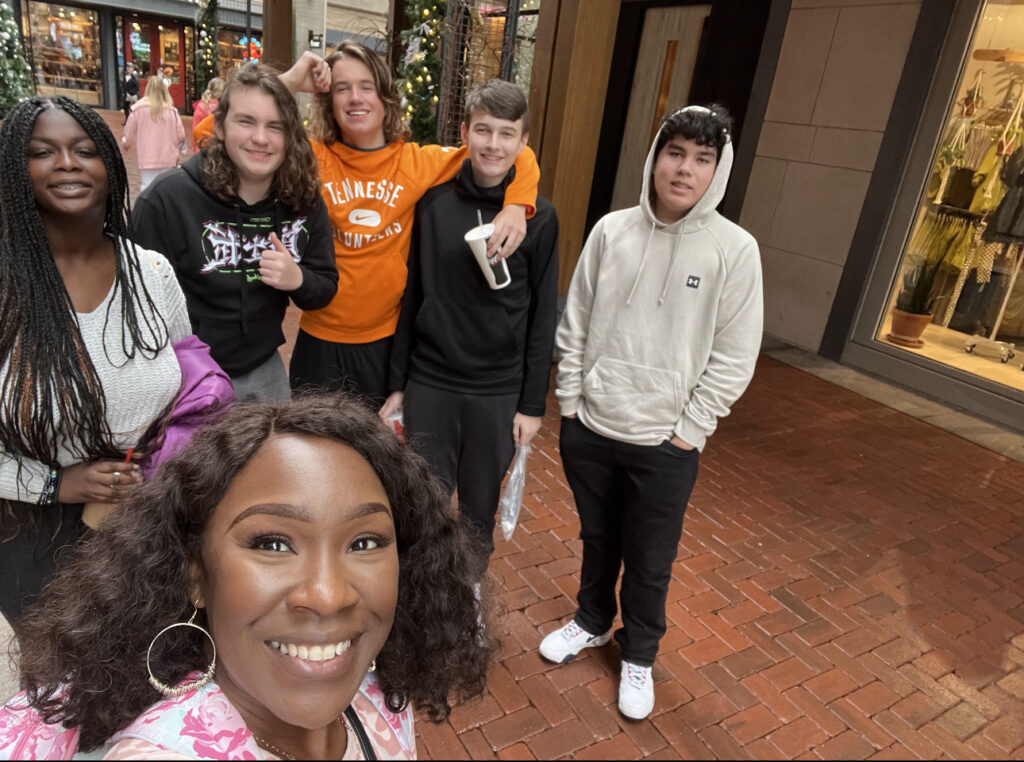 ---
Culture of Crafting
Our local Winterim began today with a discussion about the difference between art and craft, questioning if there is a difference and if craftsmanship is as revered as it once was. The discussion then moved to the link between craft and culture.
Our focus for the day was on ink arts and Chinese culture. Students learned that the earliest examples of tie-dye come from 5th-century China. Students then created their tie-dyed t-shirts. They have to sit overnight. Stay tuned for pics!
Next, we began looking at kites in Chinese culture. There are kite festivals worldwide, but one of the biggest is held in Weifang, China which is believed to be the birthplace of kites. The first use is said to be in 200 BC by a Chinese general who used a kite to measure the distance his troops would need to dig to bypass enemy forces, and it worked! Kites eventually would help Americans better understand wind and weather from Benjamin Franklin and also help the Wright brothers on their path to flight.
Students used alcohol ink paints to decorate their nylon kites. Hopefully, the weather will cooperate, and we can try flying them Wednesday!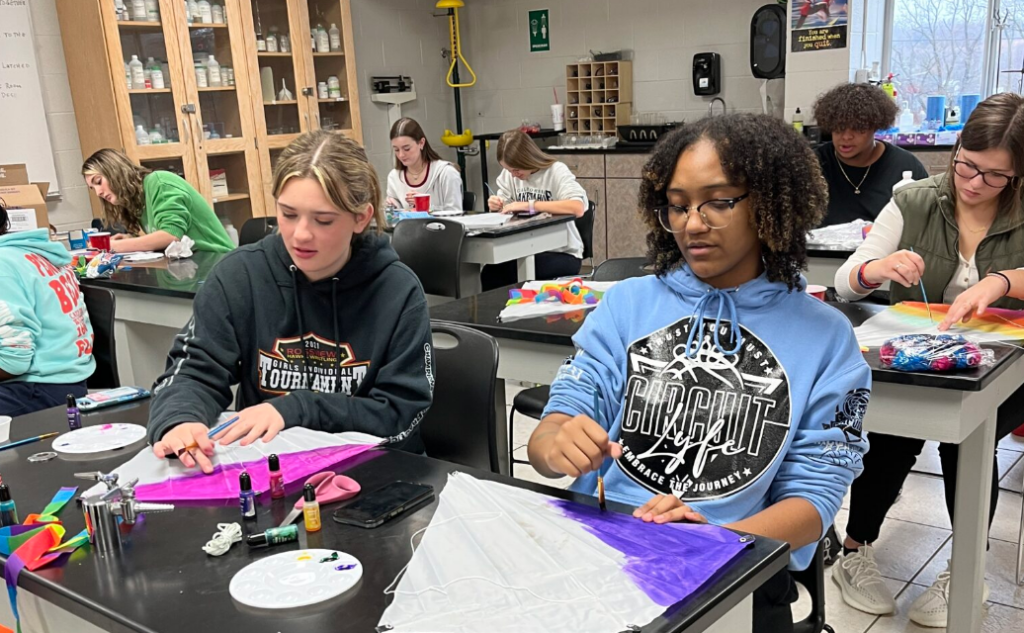 ---
Disney
Disney Winterim departed in the dark and rain of Nashville and landed in the sunny warmth of Orlando! The group spent the day enjoying Animal Kingdom. Students rode Mount Everest and Avatar coasters and dined on treats from Asia and Africa! After beginning the day with a 4 AM arrival, the students (and teachers) were exhausted after a fun-filled day. We found making new friends (some were famous) and others strengthening their bonds with old friends. Wednesday begins our class and we are excited for the adventure!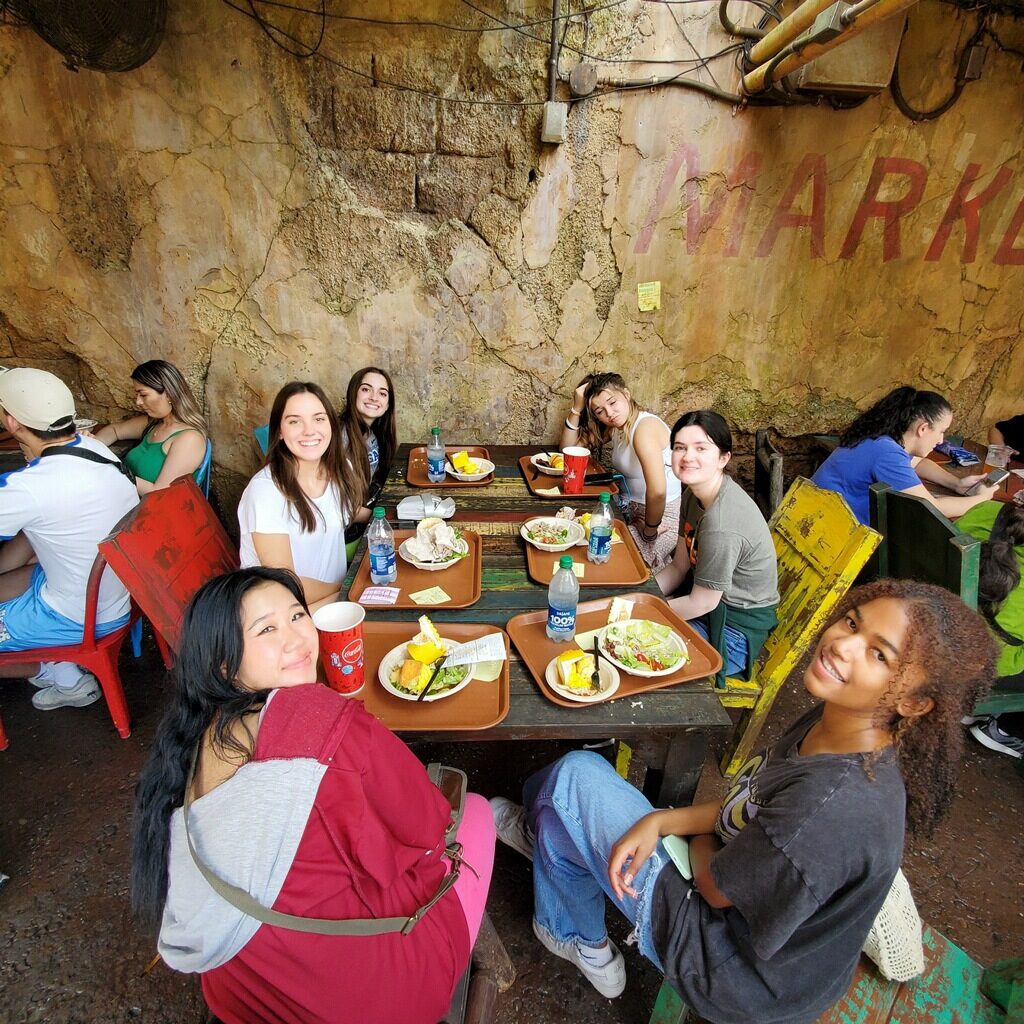 ---
Physical & Mental Well-Being
Physical and Mental Well-Being had an exciting first day of Winterim. We began with a healthy breakfast while downloading fitness and nutrition apps. This was followed by some of our students first experiences with guided meditation. After a brief walk and stretch, we proceeded with a full-body workout in our fitness room. After lunch, we entered our data into our fitness and nutrition apps. We then spent time reading our newly purchased book, The Teenage Guide to Stress by Nicola Morgan. Our students also experienced several other activities throughout the day, including choosing books to read to lower school students tomorrow and blindfolded team games to emphasize ways to enhance mental health through giving back teamwork.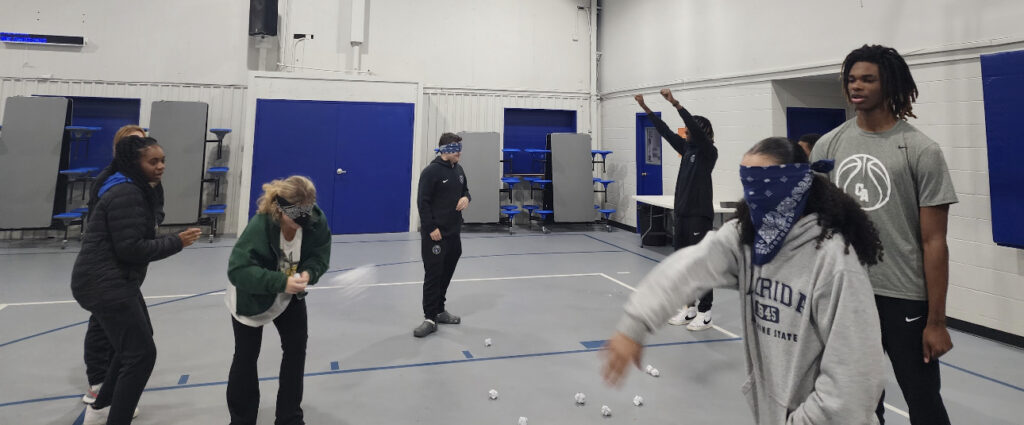 ---
New Orleans
After arriving in New Orleans, our group jumped on the St. Charles streetcar and made our way to the lavish Garden District, where celebrities like Beyonce and John Goodman own homes. We got back on the streetcar, the oldest in New Orleans, and made our way to Jackson Square, where street performance, The Old Guys, entertained us with classic R&B. We walked around the French Quarter with our local tour guide, Milton, who taught us about the history of New Orleans as well as the Creole and Cajun cultures. (And languappe told us that St Charles streetcar #922 is the streetcar named Desire!) We finished day one of our New Orleans experience with dinner at the second oldest restaurant in New Orleans, Tujagues.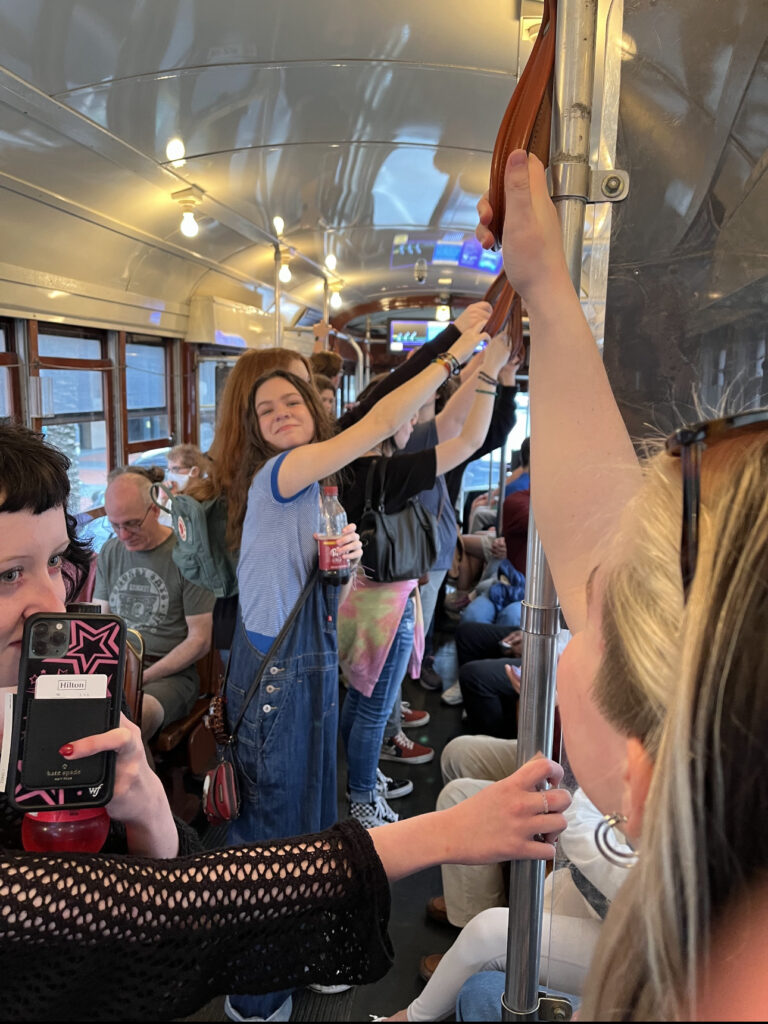 ---
Iceland
Day Two began with an early morning 'ThunderCat Scavenger Hunt' around the City Center. The kids got around on foot and scooters in the early morning darkness (the sun doesn't come up until after 11:00 am!), tracking down cryptic clues, finding famous landmarks, and having locals assist them with their tasks. They poured drinks and served cake in coffee shops, posed for album covers on the Rainbow Road, chased Geese, and geotagged and documented everything on their phones for a prize!!
After lunch, they undertook a 3-hour Whale Watching Cruise in the frigid North Atlantic Ocean, where we were lucky enough to spot playful humpback whales. A great dinner and fun time at the hotel with the kids and staff before they prepare for a full day of waterfalls, black sand beaches, Northern Lights, and ATV riding Wednesday!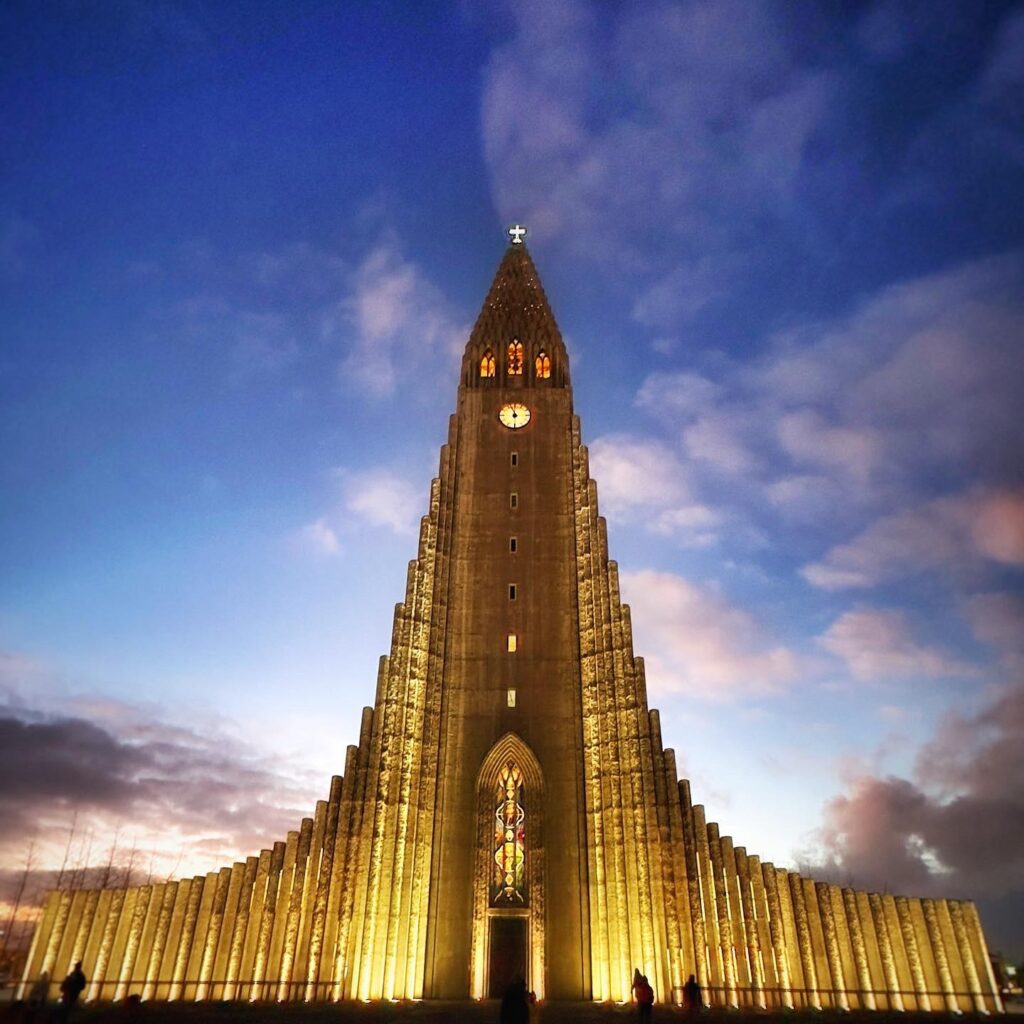 ---
Ireland
We began our second day in Ireland by learning how to use public transportation. The public transport in Ireland is called the Luas, which is the Irish word for speed and is very clean and efficient. We took the Luas until we reached a decent walking distance from St. Patrick's Cathedral. The Cathedral was initially established as a Catholic Church but was later reformed into a Protestant church by King Henry VIII. After a quick history lesson in St. Patrick's Park, we headed inside to explore. The Cathedral was full of intricate stained glass and historical alters. Several of us wrote in the prayer book as we returned to the front to meet for our next destination.
After St. Patrick's Cathedral, we headed towards Dublin Castle (more on that later), where we stopped at the Christ Church Cathedral. We got several lessons on the Cathedral's history and some information about the Irish flag, which represents the unity between Irish nationalism, Catholics, and Protestants in Ireland. After that lesson, we headed off for a quick coffee break.
Following our coffee break, we got the opportunity to wander the halls of Dublin Castle. An interesting fact about Dublin Castle, the statue of Justice is neither blind nor balanced. She looks towards an upright sword, which is a symbol of aggression. We explored the castle for about an hour before making our way to the castle's gardens. The Dubh Linn Garden is a large circle of grass and hedges, which add a nice pop of green to the stone-covered area we were in.
When we returned to the hotel, we listened to Irish music and learned some basic Irish dances. The music was very interactive, and we listened to several different tunes. We listened to several songs on the guitar, as well as jigs and reels. We learned our dances in two groups. We did partner and group dances, all of which used the same basic moves. We were all tired by the end as we headed back to our rooms to prepare dinner.
We had a very posh dinner at the Shelbourne in the constitution room, where the Irish constitution was penned. Our meal began with an appetizer of tomatoes, greens, and goat's cheese. Following the appetizer, we had a chicken, potatoes, and greens dish. Our dessert was a plate with brownie, macaron, and opera cake, followed by tea or coffee with petit fours. It was the perfect end to a long day of adventuring. — Ashlynn York, 11th Grade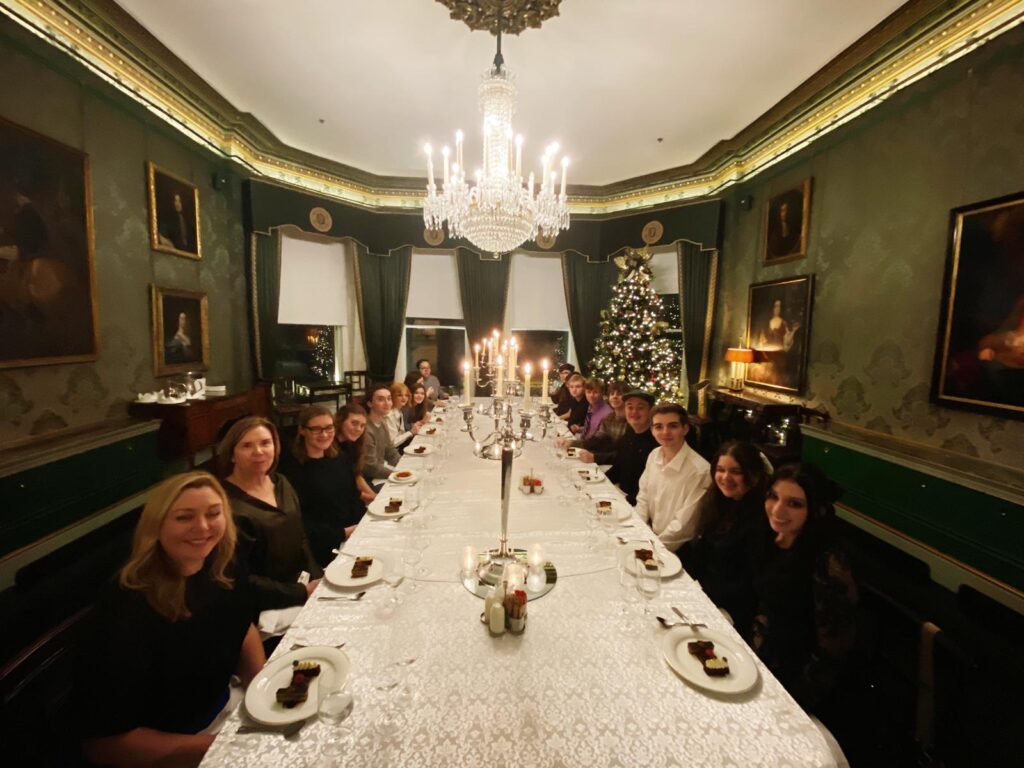 ---
Community Engagement
Students met on campus to work on resume building, college and career exploration and to prep for job shadowing placements. Students will spend the week visiting various business and professionals to learn more about their jobs. Today's group talked with Sports Broadcasters, Therapists and Professional Photographers.
---
Fitness
We began our day on Tuesday morning by meeting in the classroom and having breakfast. During that time leading up to Defy (jump zone), we discussed what happened with Damar Hamlin in last night's Bills vs. Bengals game. We talked about the mental impact on the athletes and how long it took the NFL to announce the decision to cancel the game.
We then went to Defy Jump Park and participated in everything they offered. The students had a blast playing basketball, dodgeball, rock climbing, and more. Afterward, we took our break for lunch.
Our afternoon activity was a class at NBalance Yoga and Fitness. The students participated in the private lesson, a mix of yoga, meditation, and mental resetting. This was a fantastic way to end our first day of Winterim.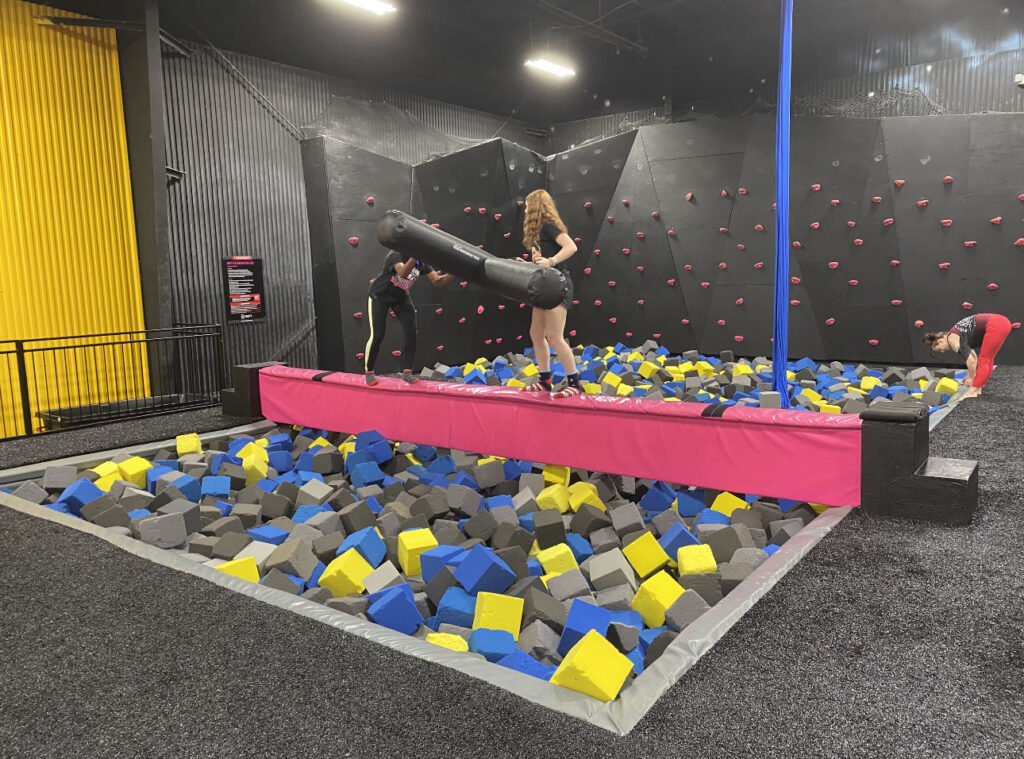 ---
APSU GIS Center
Yesterday we were at the GIS center, which stands for Geographic information system. We mapped out either Clarksville Academy or the Sports Center. We could use Points, Lines, or Polygons, to represent certain things. For example, I used points to plot the parking spots and Lines to map out the roads. I used Polygons to map out the buildings, and we also made classes to classify specific points and Lines and distinguish them; for example, some points were green, and some were blue. Blue was handicapped, while green was a normal spot. — Cesar Ugalde, 9th Grade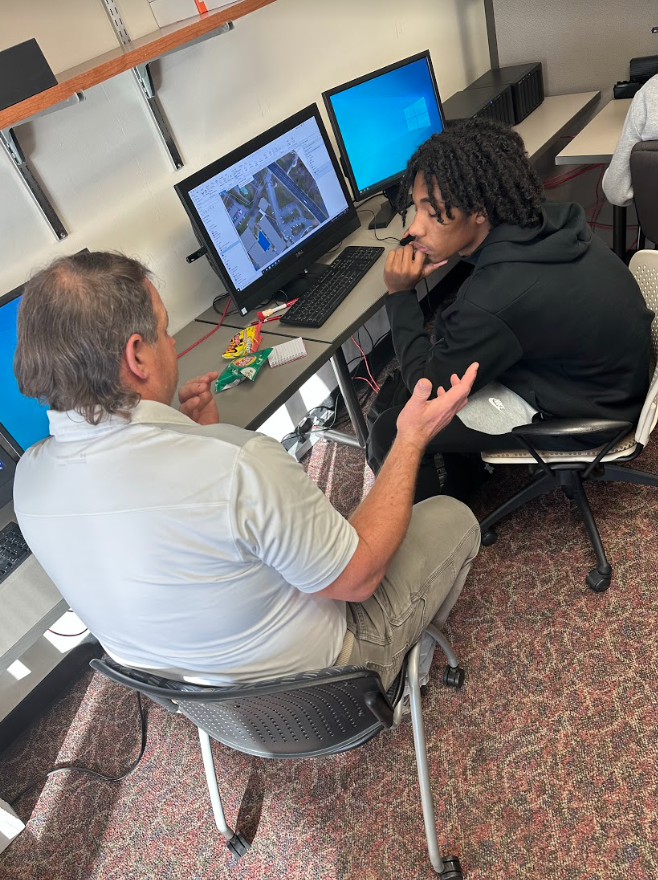 ---
Everglades
Twenty students and two faculty members left Nashville Monday on an overnight flight to Florida. After a brief night of sleep, the adventure began!
On Tuesday, students went to Sombrero reef and snorkeled. Students were able to see jellyfish, snapper, and amazing colored coral. While the boat ride out was rougher than usual, students learned about the conservation efforts of the Florida coral reefs and the importance of protecting them.
After the snorkel adventure, students kayaked the mangrove forests on Big Pine Key. Students learned about the wildlife in the mangrove forest and found horseshoe crabs and the exoskeletons they had shed while growing. Students also learned about the different types of jellyfish found in the mangrove stream.
After an amazing sunset dinner and the Sunset Grill and Raw Bar, we ventured to Key West and went on a Ghost Tour. Students learned the history of Key West and the people who are said to haunt the island. Our tour guide showed us how to use paranormal equipment and allowed the students to experiment with it at the Hard Rock Cafe.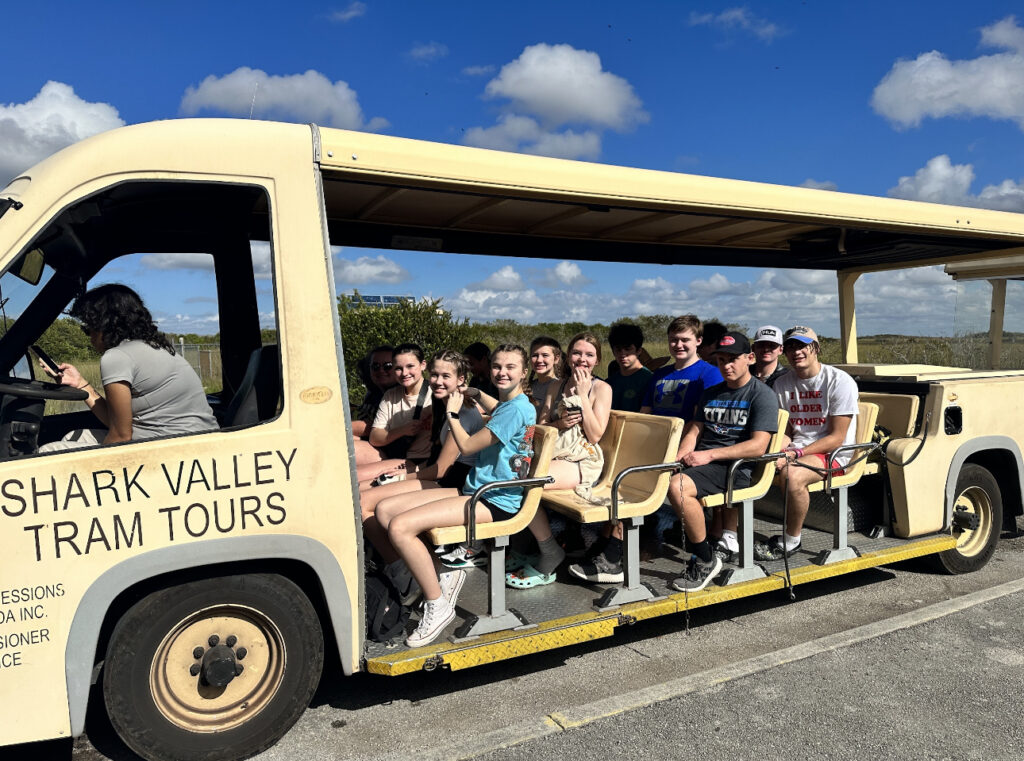 ---
Orlando
We set off on an environmental and ecological tour of the Florida Everglades in an airboat! Alligators of all sizes, all types of birds, and the beauty of the freshwater glades made for a beautiful ride and experience. Afterward, we had a great lunch and pet a boa constrictor and an alligator at the wildlife zoo. The next stop was Wonderworks for numerous STEM-related activities with cool simulator rides and hands-on events. We had dinner and a magic show there and were mesmerized by the magician's act.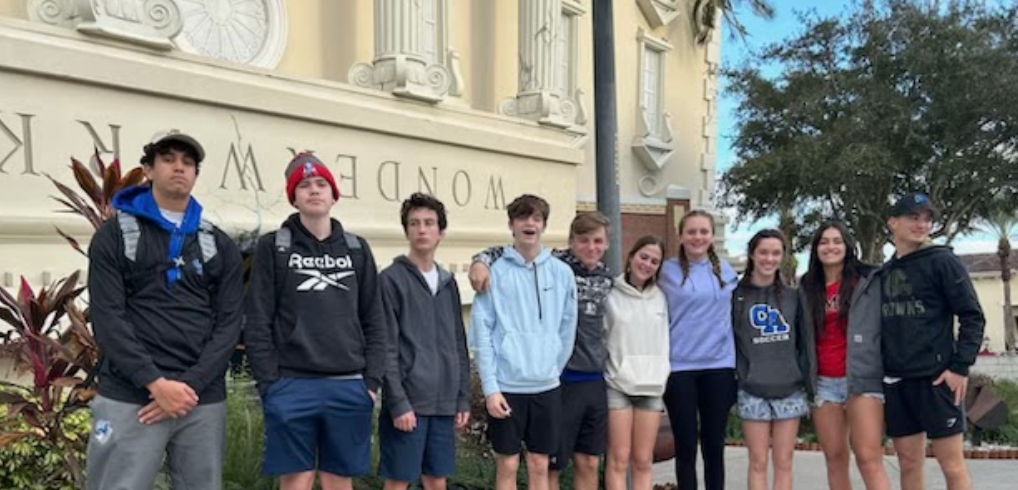 ---
January 4th, 2023
Disney
Disney Winterim Day Two began with an early morning class evaluating the physics of Disney Theme Parks. The 29 students took a fast-paced, behind-the-scenes tour of how the three laws of motion are at work on the rides in Hollywood Studios. In particular, students evaluated the experience created by Imagineers on the Rocking Roller Coaster and the Tower of Terror! Students spent the afternoon exploring the remainder of the park designing light sabers, meeting Sulley, and capping off the evening watching the Fantasmic Fireworks Show!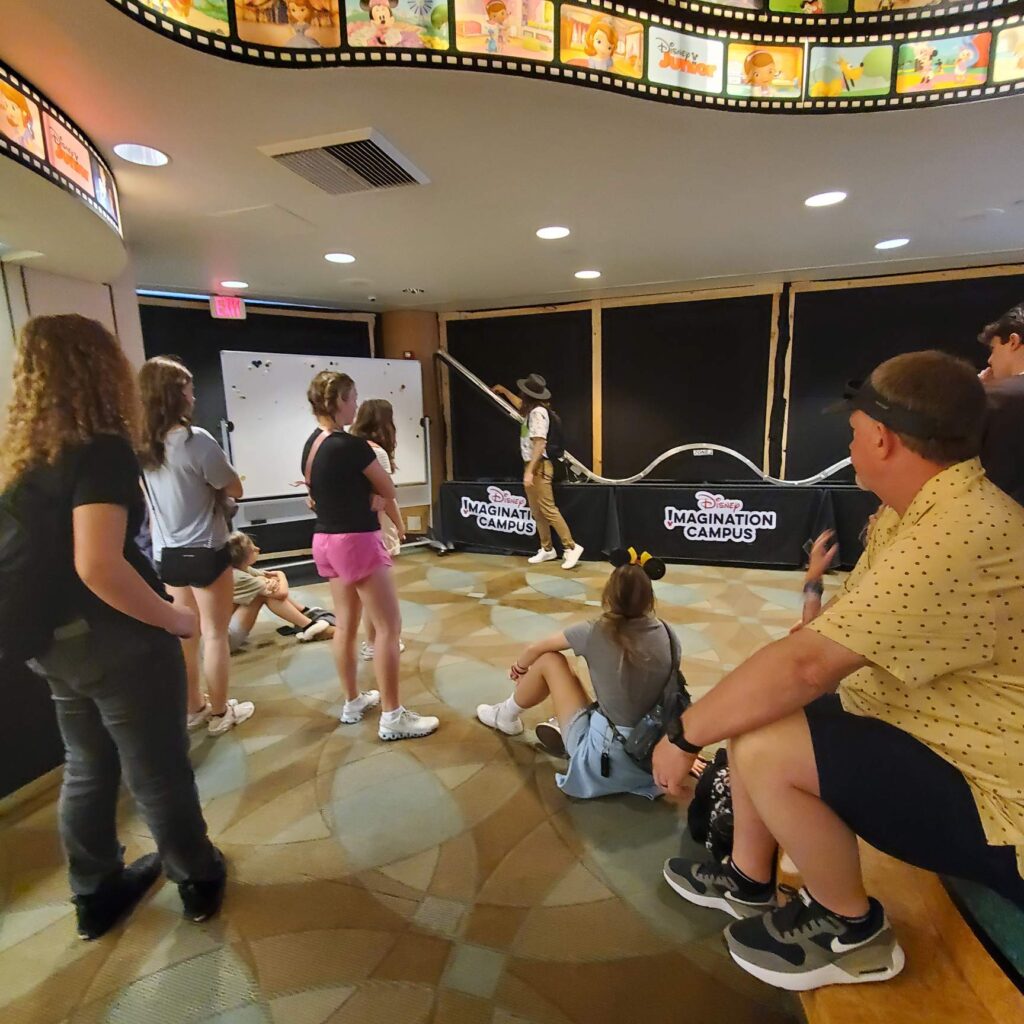 ---
Crafting
Students were able to see their handiwork on their tie-dyed t-shirts this morning, and they were very cool! We then moved to pottery. Students created two styles: Mexican-inspired pinch pots and stamped bowls or dishes. These have to dry before painting.
The group broke out the paints today and created woven paintings. Students made two paintings of their choice, cut them into strips, and wove them together to create a fascinating new painting. Tomorrow we are starting paper crafts and will try our hand at quilling.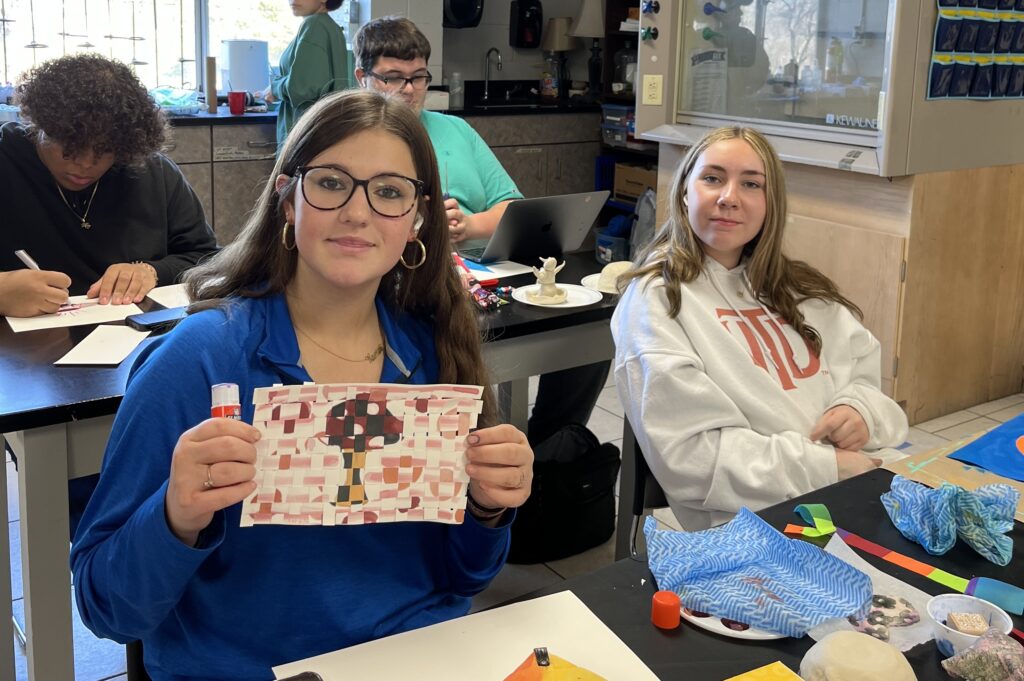 ---
Everglades
Today we visited Shark Valley in the Everglades. Students learned about conservation in the Everglades and the importance of the Everglades to our world. We also learned about invasive species and their negative impact on the ecosystem. After Shark Valley, we visited Robbie's of Islamorada, where students fed tarpons and fought off hungry pelicans! We could see alligators and crocodiles since the everglades are the only place in the world to see the two together.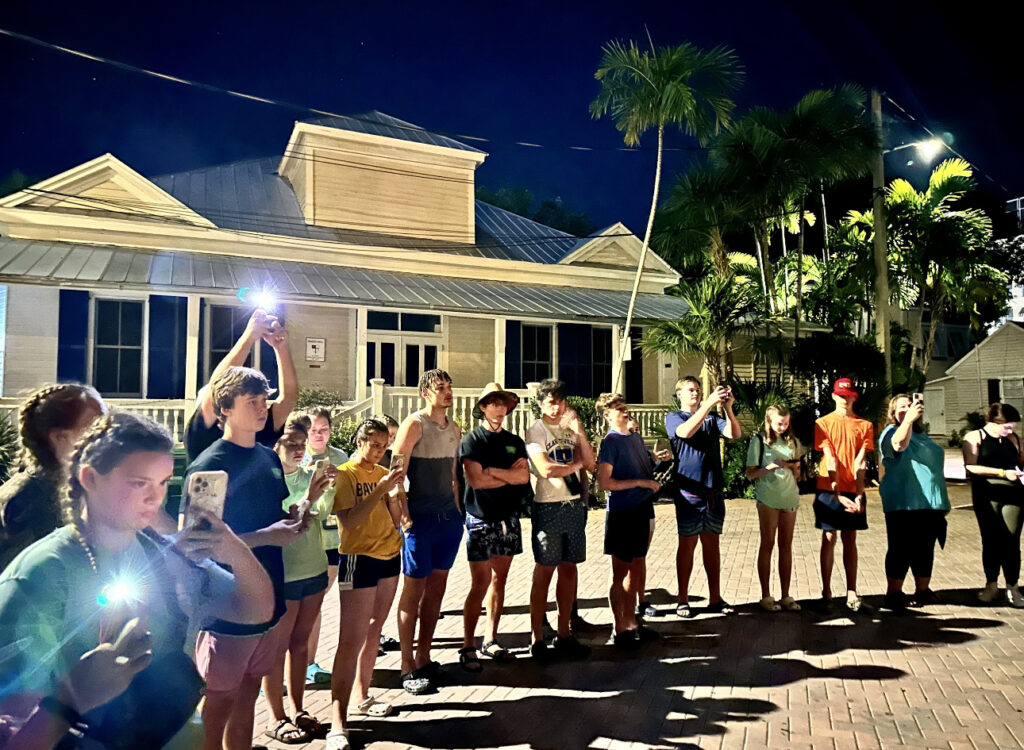 ---
Music City
Today our adventure was discovering the Opry Mills area. We began with a fun and entertaining backstage tour of the Grand Ole Opry. Wow! There is so much history there, dating back to the mid-1920s! Seeing all the inductees plated on the walls and the dressing rooms where they prepare for shows was fun! Next, it was a short walk across the street to Madame Tussaud's Wax Museum. You couldn't have told the students they did not meet the stars in person. The wax models look so so real! We got lots of fun photos with Taylor Swift, Katy Perry, Michael Jackson, Beyonce, and more! We made our way to lunch at Paula Deen's Country Kitchen and had more food than we should have. It was the best southern fried chicken we'd had in a while. Finally, the students were excited to finish the day at Dave and Buster's. We can't wait until tomorrow!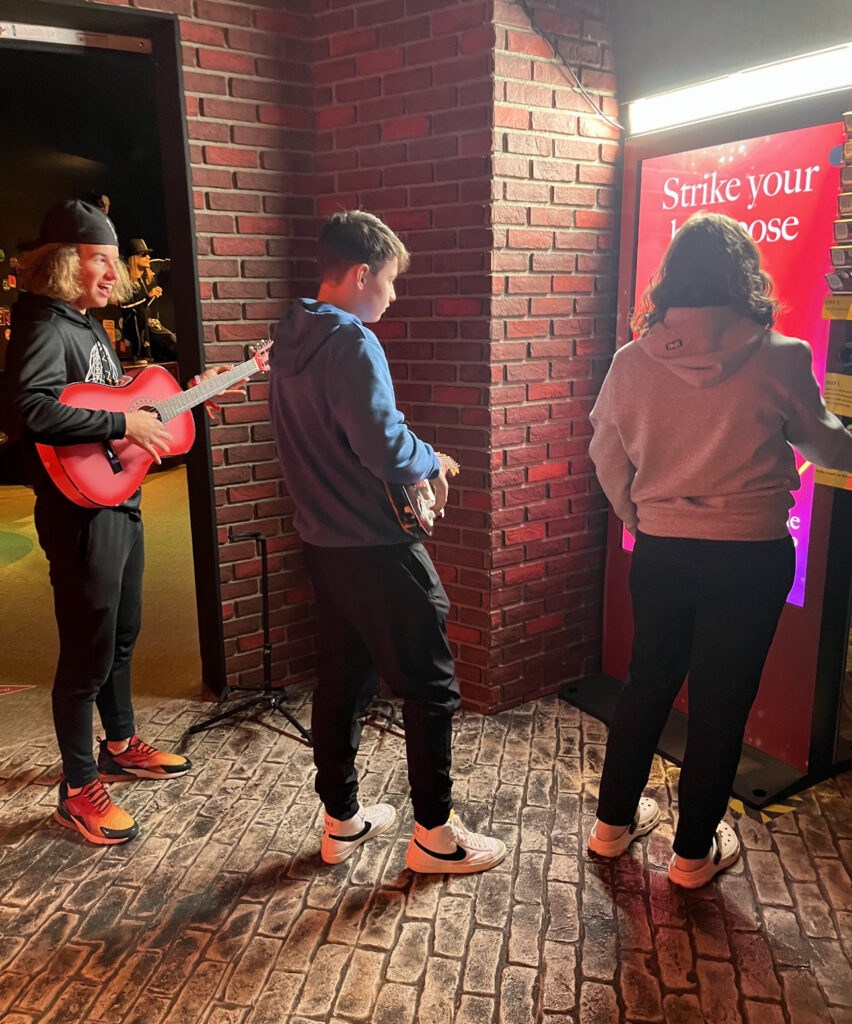 ---
Physical & Mental Well Being
Today was another day filled with growth toward becoming physically and mentally fit. We again started with a healthy breakfast and guided meditation. Mid-morning, we fit in a beginner's Yoga class between reading and playing games with our elementary friends. We introduced our PreK to the Library's new box books. The books are read to the student while they track each word with their fingers. Thanks to Mrs. Swallows for allowing us to assist with introducing this new learning tool! After lunch, it was off to the City Forum for fun and games while learning to socialize positively.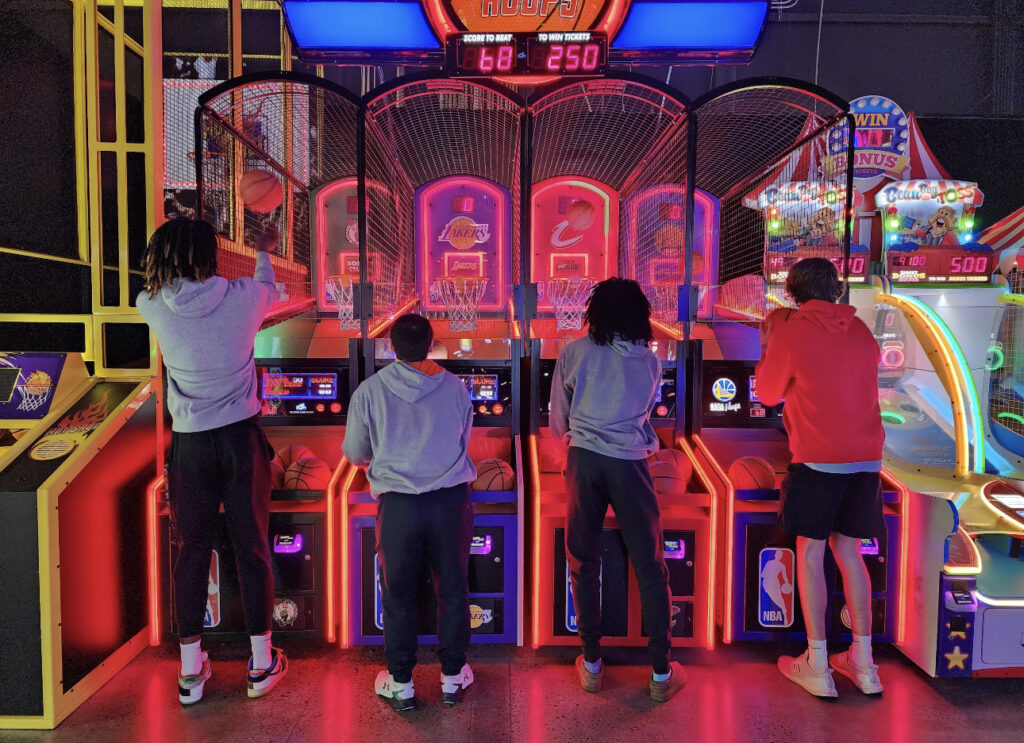 ---
New Orleans
We spent the morning at the Voodoo Museum, the only one of its kind in America, with New Orleans Nate, who educated us on the history of Voodoo — not Hoodoo — in New Orleans. After a walk through the French Market, our local tour guide Lewis took us on a Hidden History walking tour, explaining the aim, strategy, and targets of the 1811 Louisiana Slave Revolt. We concluded the day with an evening meal at the Hard Rock Cafe. Today's lagniappe was a one-night-only performance by Adam Pearce, a 2017 contestant on The Voice.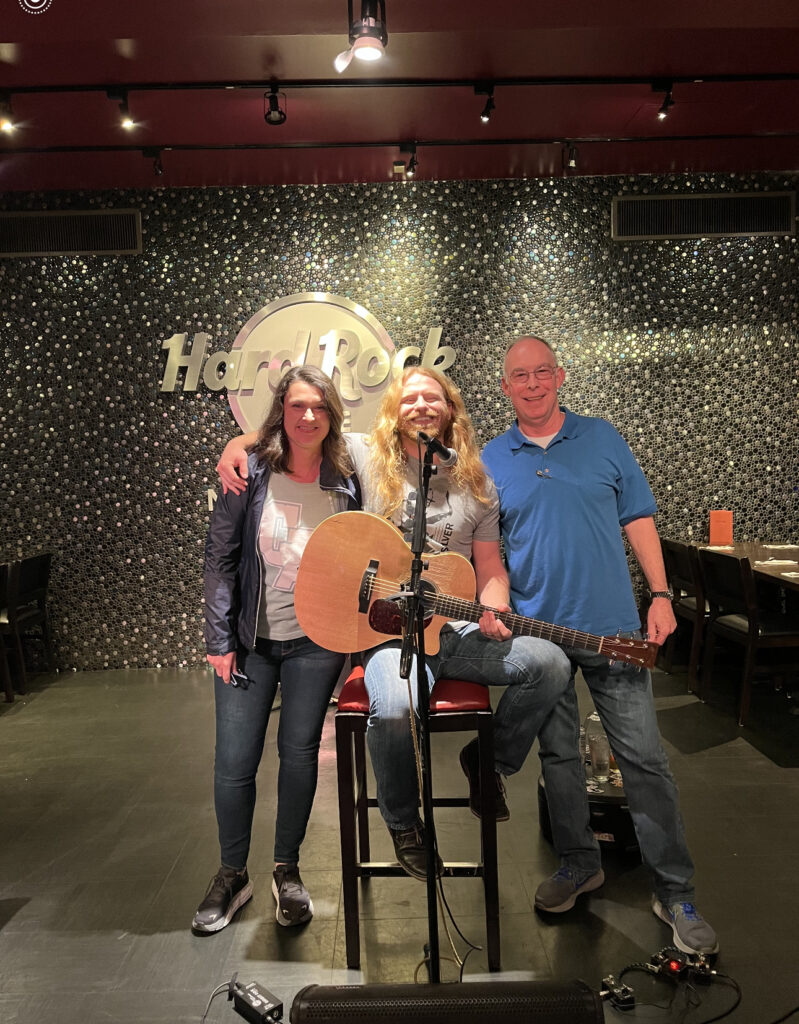 ---
Fitness
Our second day of Winterim started with breakfast in my classroom. During this time, we had a discussion, and then, since we were ready for the day, we made our way to Liberty Park. We worked on soccer skills, tried the workout equipment, and walked around the park.
After lunch, we walked to Sanctuary on Main to enjoy a Restorative Yoga class. The class was very relaxing and left everyone feeling rejuvenated. We then walked back to campus and ended the day in the classroom, discussing today's events and our plan for tomorrow.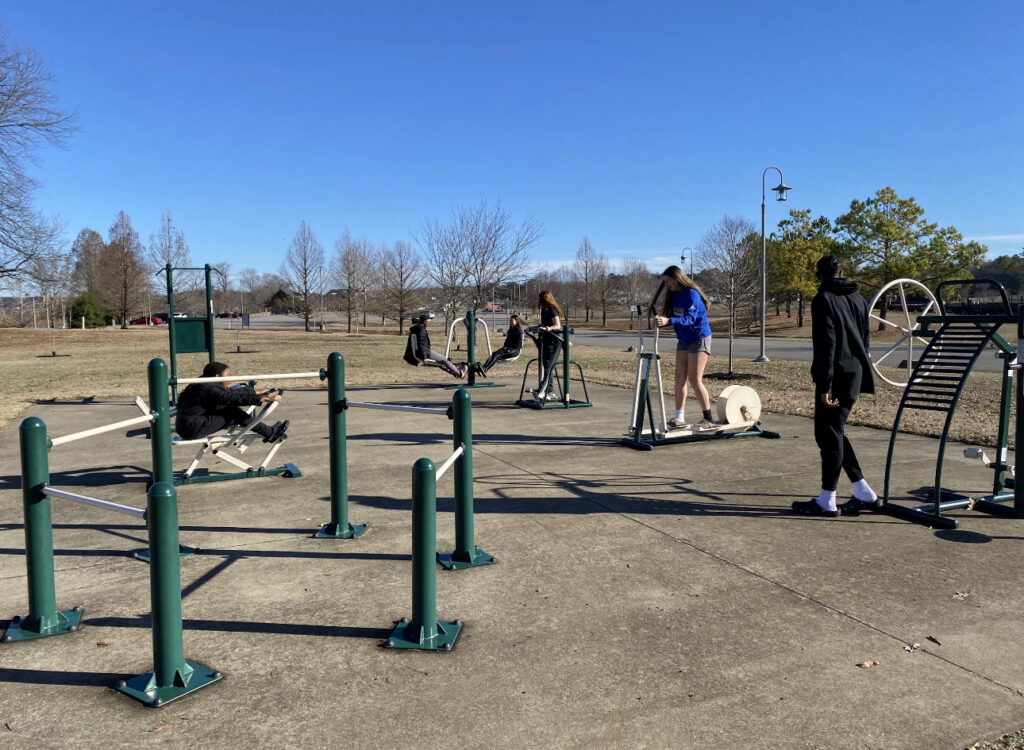 ---
Iceland
We started the day with an ATV adventure in the dark and snow before heading to the southern shore of Iceland. Did you know it stays dark in Iceland until approximately 11:00 AM and is only light for a few hours? Our students are slowly adjusting to this short time of daylight! We took in both the Skogafoss and Seljalandsfoss waterfalls before heading to the incredible Black Beaches of Vik. The day ended with us 'chasing' the Northern Lights!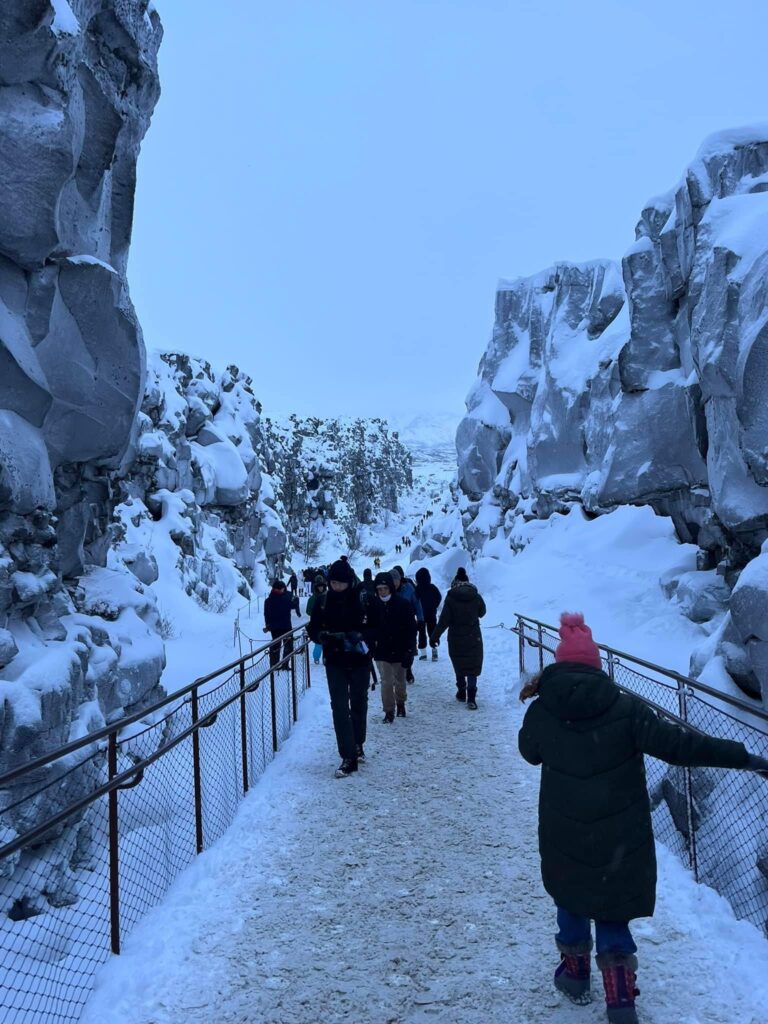 ---
Orlando
The first stop is the Kennedy Space Center to see the Apollo Rocket Program and the Atlantis Space Shuttle. Students learned what it took for America to get our rockets and astronauts into "The Space Race." Tours of these spaceships, Mission Control, and even the new rockets of Elon Musk's SpaceX were viewed and explored. After a day of space, it was off to Disney Springs for dinner, dessert, and a little shopping.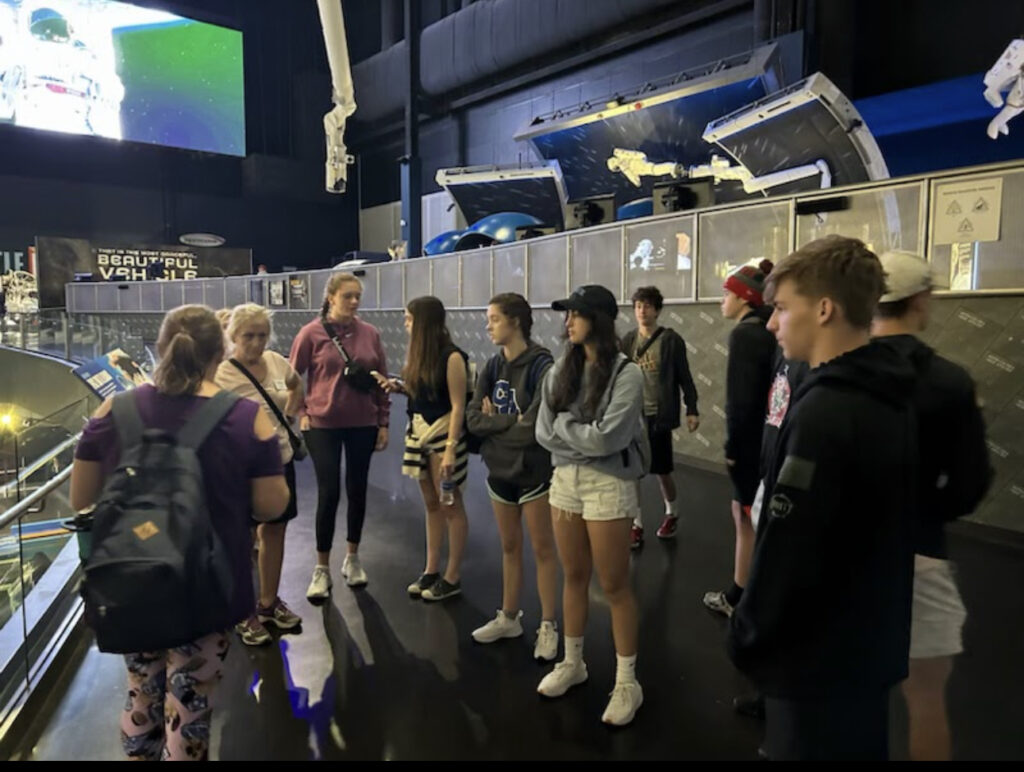 ---
Ireland
We started the day by leaving the Capital city of Dublin and began our journey to the Powerscourt gardens and out west to the port city of Galway. Powerscourt is a large country estate dating from the 1700s with a large manor and beautiful gardens. The gardens are surrounded by gorgeous vistas overlooking the rolling hills of the Irish countryside. These gardens are filled with plants from across the globe and decorated with statues and small stone towers for a better view of the trees. My favorite part of the Powerscourt gardens was the sense of peace and serenity walking along the many paths. After we visited Powerscourt, we began the drive across the Island to the west coast of Ireland and the City of Galway. Once we checked into our hotel, we were greeted by our guide Liam for a walking tour of Galway. We walked through the winding city streets and observed old city walls, cathedrals, squares, and the rushing river Corrib. We finished the day at McSwiggans for dinner and then went to our hotel. My favorite part of Galway was our tour guide, Liam's passion and pride for his city, which can only be described as uniquely Irish. — Aiden Jones, 11th Grade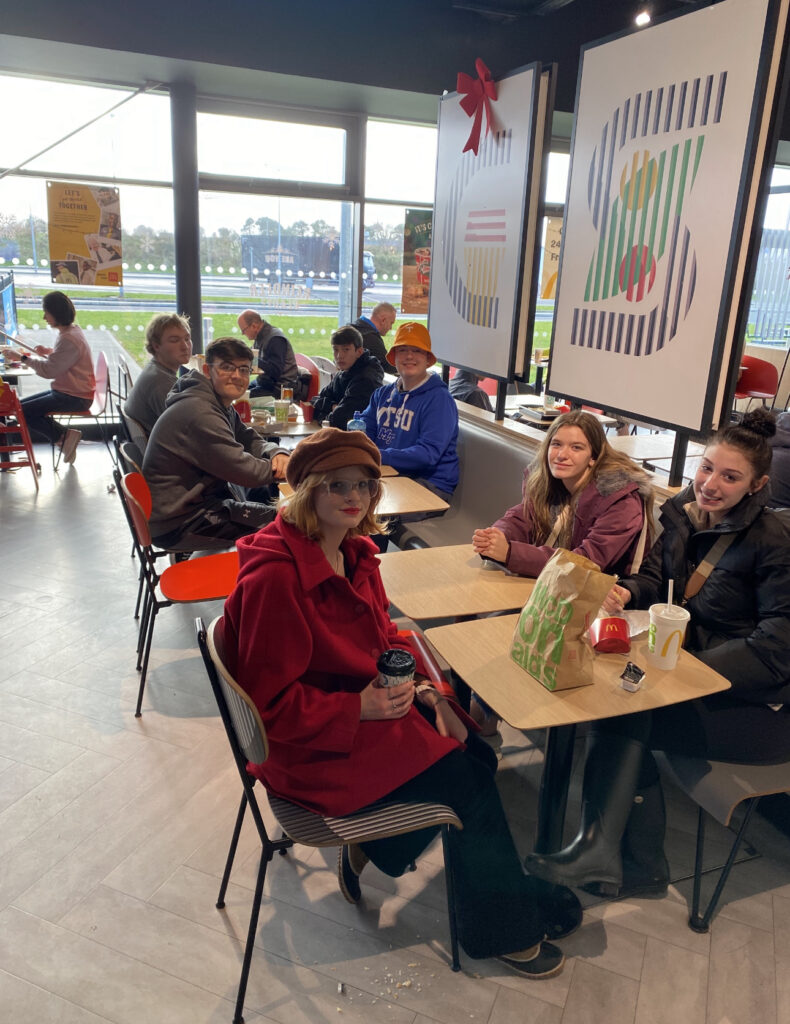 ---
APSU GIS Center
We finished digitizing our maps on ArcGIS and started making them printable. We then flew drone simulations. we also made 3D models with the blender. The first 3D model we did was a keychain. we then sliced the 3D model in Prusaslicer or Ultimaker Cura. After the model was sliced, we uploaded it to our thumb drives. Before we printed, we changed the filament in our printers. After the thumb drive was inserted, we could print our 3D model on the 3D printers. — Lexi Cruse, 9th Grade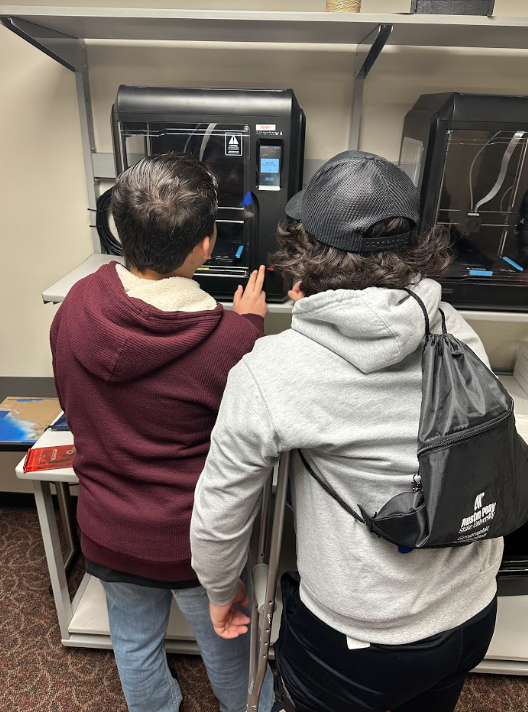 ---
Culinary
On day two of our culinary class, we made two kinds of dumplings, pork, and cabbage. Everything was super yummy! Everyone loved the cabbage with the sauce. We also had Asian cucumbers, which were very good but simple. A lot of people took that recipe home to make for the family. –Raegan Irish, 11th Grade
We also made one of my all-time favorite foods from scratch Scallion pancakes. To start, I made my dough with a flower and water mixture, and while my dough was setting, I made my filling using oil, water, and flour. After my dough sat for 20 minutes, I rolled it out into six balls, then 6×10 inch thin rectangles. I then placed my filling on one side of the dough, rolled it up, and rolled it back into a circular shape. Once I was finished with that, we put them in a frying pan with hot oil and cooked them to taste. We made a sauce using a mix of rice vinegar, soy sauce, and water. The process was a little tedious but worth it because they were elegant. Jackson Goyings, 12th Grade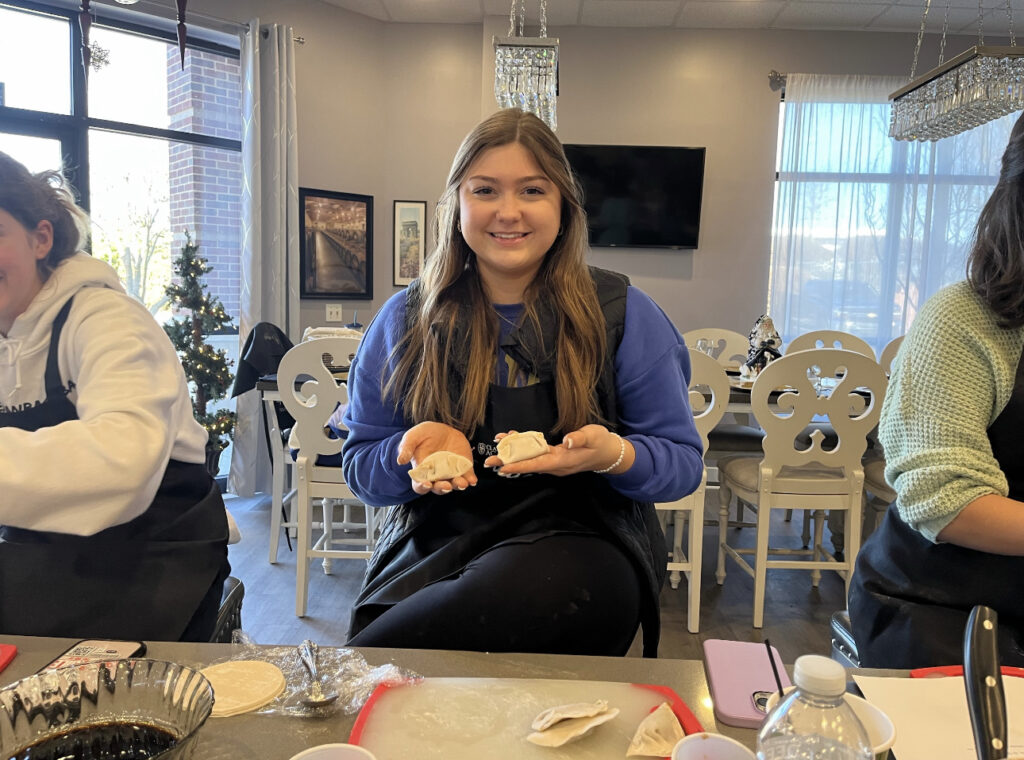 ---
January 5, 2023
Physical & Mental Well-Being
Today for Physical and Mental Well-Being, we had our normal healthy breakfast followed by a 20-minute Stress and Anxiety relief meditation. The following hours were spent at one of Clarksville's hidden Gems, Mt. Olive Cemetery. There we learned lots of information about the physical and mental lifestyle lived during slavery and the health issues encumbered during the time period. Our students then rushed back to assist the library with the break out of our new box books to Kindergarten. In the afternoon portion of Winterim, we viewed a Ted talk on Social Health and discussed our field trip and information gained through the Social Health video. For the last segment today, our students were introduced to circuit training and performed a full-body circuit training workout.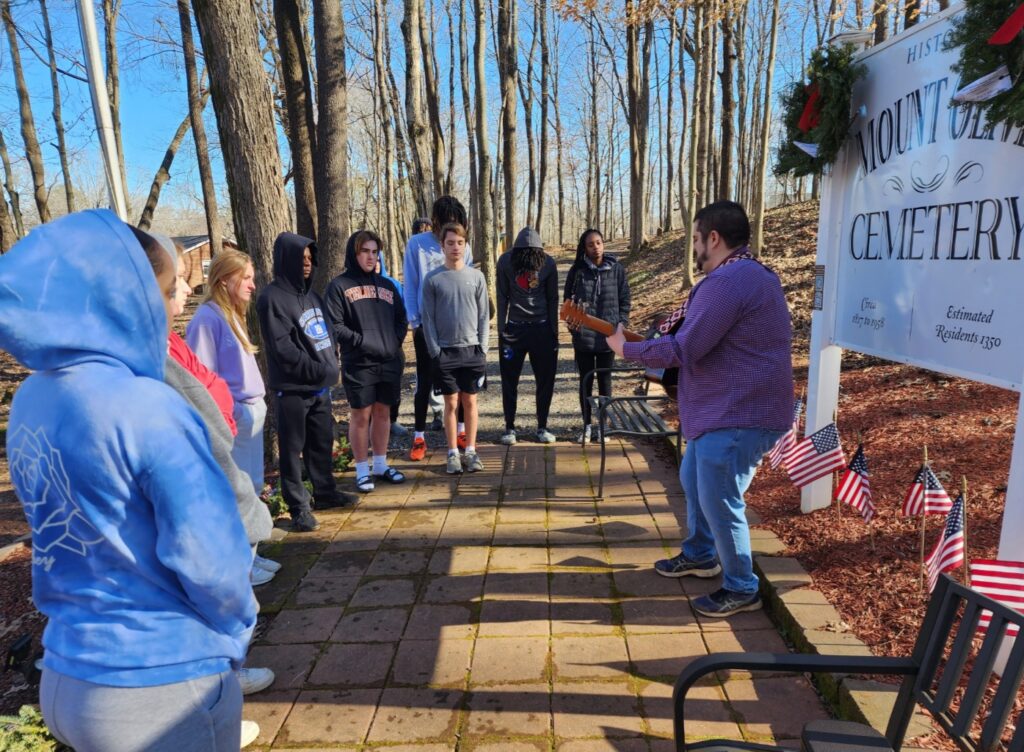 ---
Culinary
Today in our culinary Winterim, we made a variety of pasta taught to us by Chef Kris of Black Diamond Culinary. We first made potato gnocchi, an Italian-style dumpling made from potatoes. Next, Chef Kris helped us make fettuccini pasta, which was put through several machines to thin out the dough and cut out pasta strips. While this was taking place, other students were making fine sauces that would go along with the pasta and garlic bread. Finally, all the pasta was put into the pot and cooked, and it was delicious! For dessert, we had Tiramisu Cake and Italian Lemon Cake. Truly one of the most fun and interactive cooking classes ever! Sedge Waltmann, 9th Grade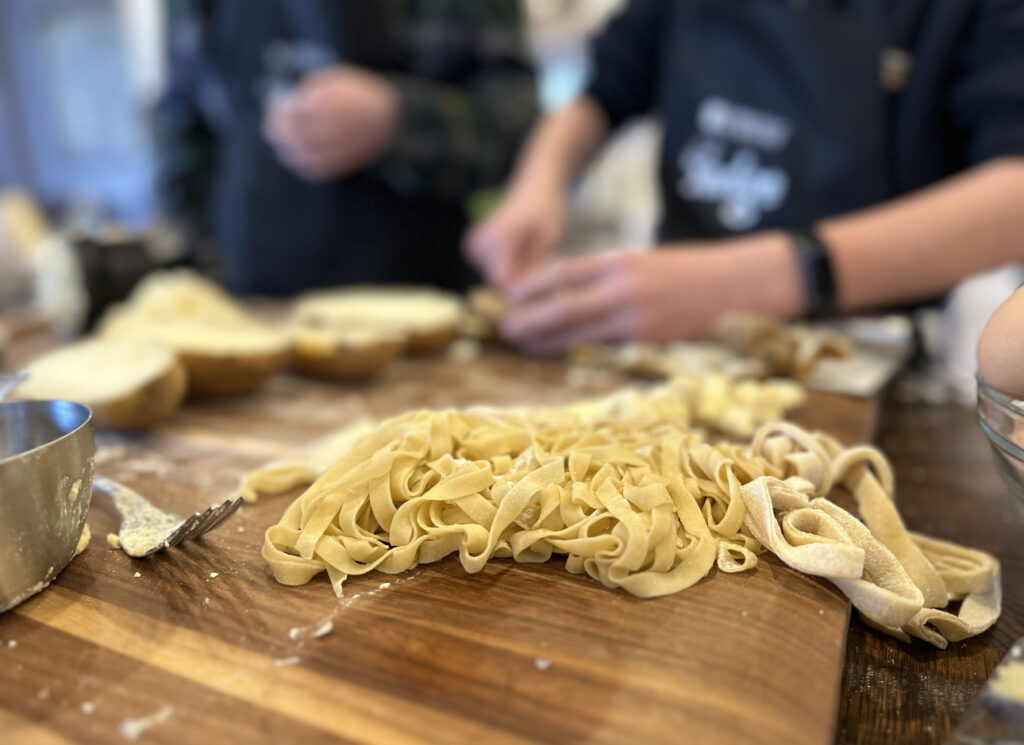 ---
Community Engagement
Today students volunteered at Manna Cafe during the morning helping to prep items for distribution. In the afternoon students helped with tasks around CA's camp – moving the old cafeteria tables and chairs to storage, organizing the concessions area and helping in the Library.
Willie Wilson shadowed Dr. Steven Zavers (Pharmacist), Kelvin Ladner shadowed Frazier Allen (Businessman) and Sawyer Barnes shadowed Erin Poland (Attorney)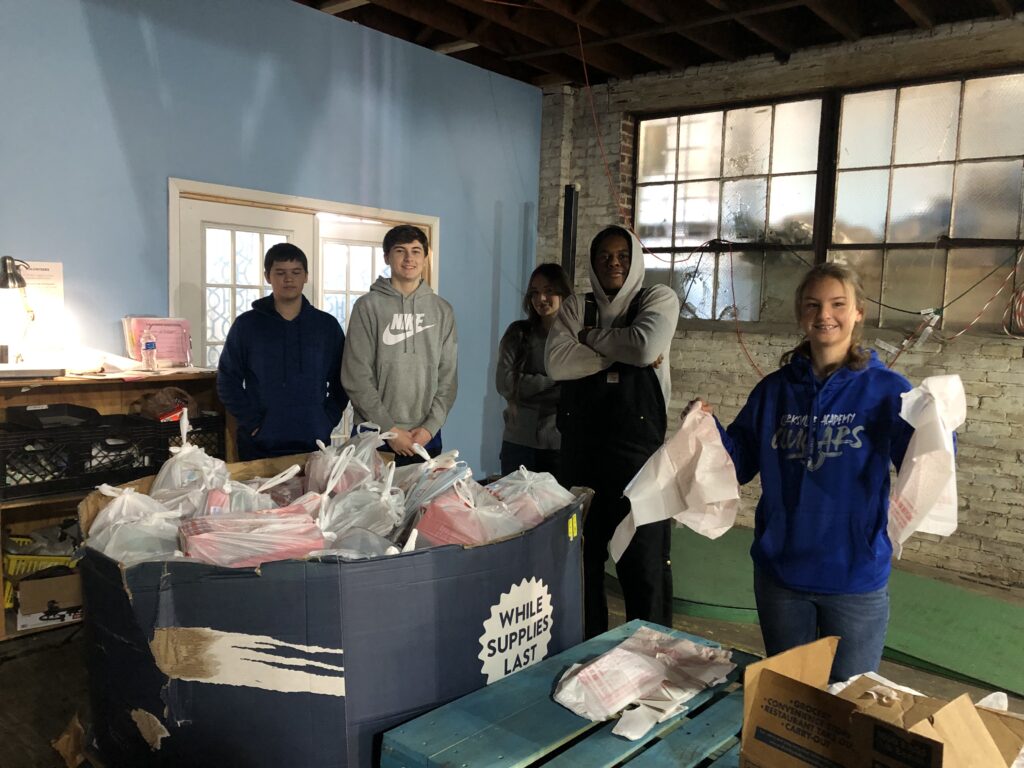 ---
Music City
Today began with a walking donut tour in downtown Nashville. It was 2 hrs of a little bit of sightseeing, history, and a whole lot of DONUTS! We enjoyed this one a little too much. There was something significant about each of the donut parlors we visited, and by the end, we all were able to decide which was our favorite. Next, we stopped to visit both the Johnny Cash and Patsy Cline Museums. There were so many things to see and many hands listening activities. We all were amazed at the length of Cash's career and the things he accomplished even in his old age. On the contrary, Cline's career had nearly just begun before she died too soon, but the impact she made in that little time is quite remarkable. Lastly, we visited Andrew Jackson's Hermitage, and we did not only tour his mansion but also participated in a special tour highlighting the lives of the many enslaved workers Jackson owned. Walking through what their lives would have looked like at that time was very enlightening. It was a great day!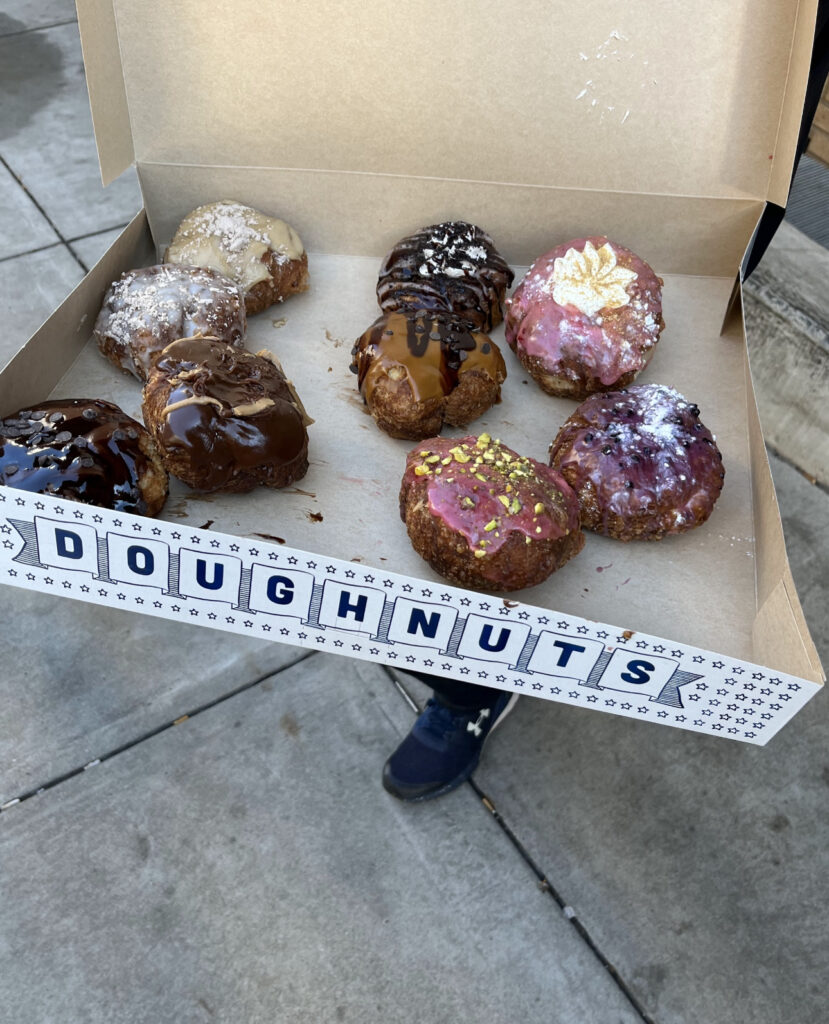 ---
New Orleans
Day 3 in New Orleans began at the National WWII Museum.  Once we were able to drag Coach Trent away, we walked over to Mardi Gras World and saw props being constructed for this year's Mardi Gras parade — in 47 days.  The streetcar took us to the Jazz Museum before we met our local tour guide in Louis Armstrong Park.  David, a former teacher, entertained us with stories about Louisiana's unique culture and music history.  Our lagniappe of the the day was Iko, a 30-year-old cockatoo, who lives on Burgundy Street in the French Quarter. Iko, named for Dr. John's song "Iko Iko," greeted us with "Hello," and David serenaded her with jazz music.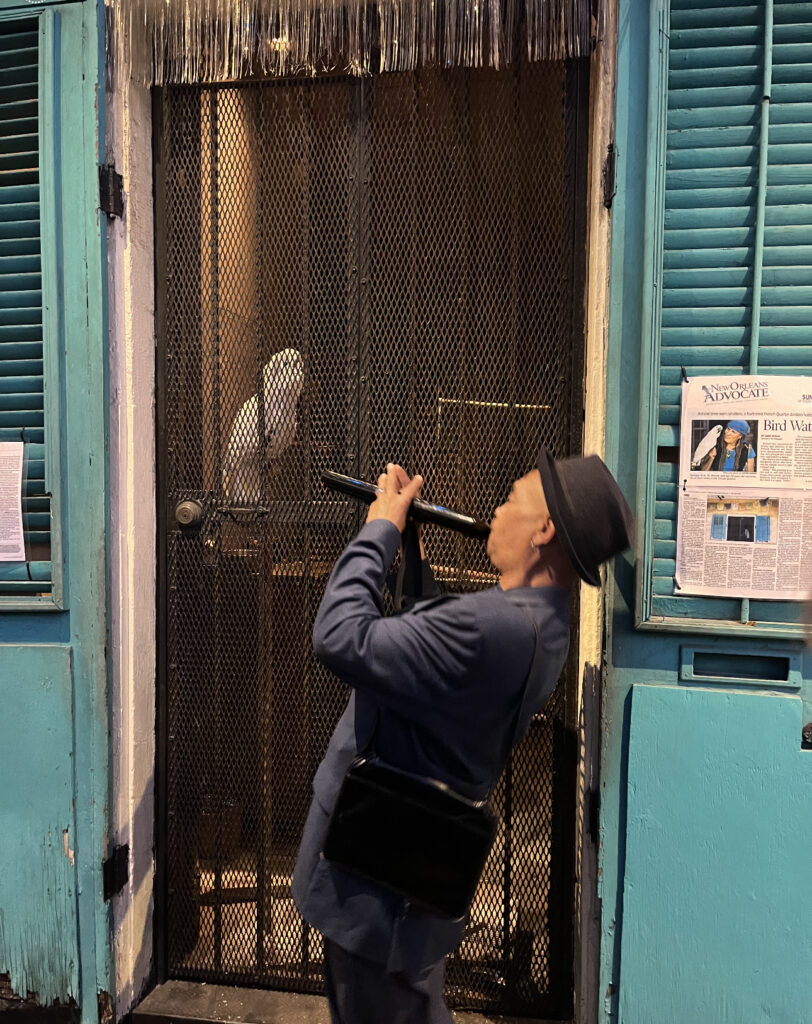 ---
Crafting
Today students worked on paper art crafts. First, we talked about quilling, a 15th-century French and Italian art in which paper strips are curled into different shapes to create varying designs. It is a very relaxing craft but can be a little tedious. However, students picked it up quickly and made some incredible designs. Then, we talked about Japanese origami. Students followed online tutorials to create birds, stars, and paper airplanes. Luckily, the weather was perfect for testing out our kites from Tuesday. Tomorrow we will get our pottery painted and wrap up our week with an art parlor game from the early 1920s.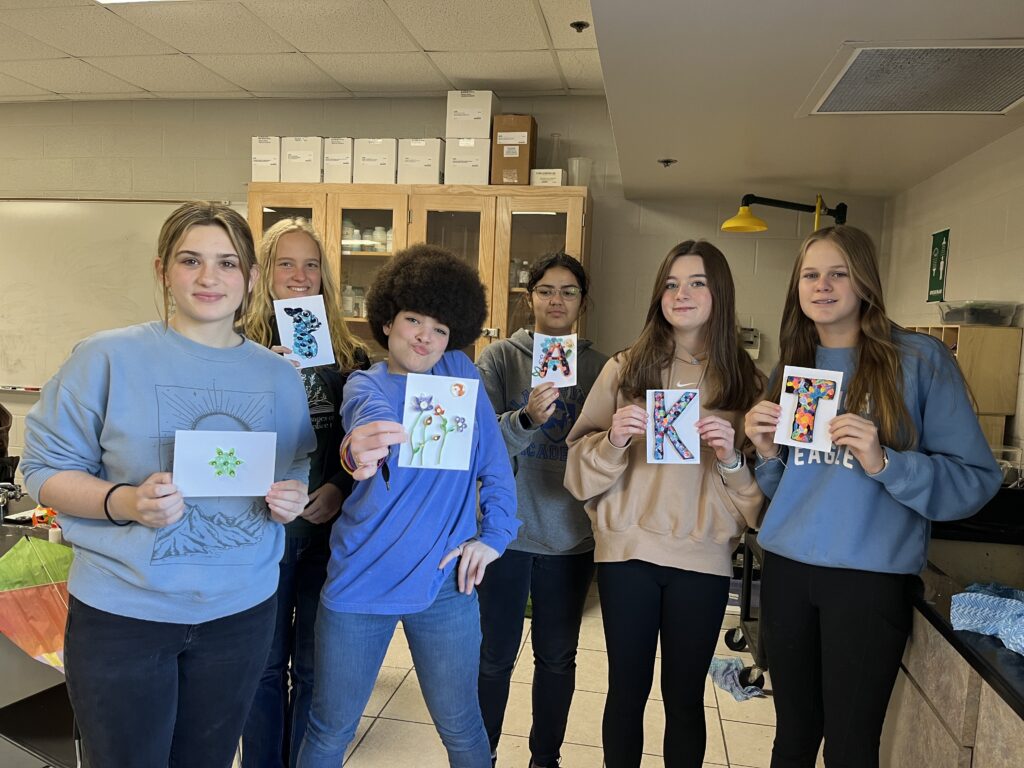 ---
Everglades
We started the morning off on Thursday at a local favorite, The Stuffed Pig, for breakfast. After we finished there, we went to Florida Keys Aquarium Encounters. Students had a guided tour through the aquarium, where they learned about the different species and the rehab and conservation efforts to protect them. Students learned about conch shells and why they are so protected in Florida. Students dressed in wet suits and got into the aquarium tanks, where they interacted with the sting rays and fish. They could free-swim and feed both the sting rays and the fish. They could also feed the sharks in the tank next to them! While at the aquarium, students were given a tour of the life support system (LSS) at the aquarium and were shown how they monitored the water quality throughout the facility. We were also able to dissect squids and learn about the anatomy of the squid!
That afternoon we ventured to The Turtle Hospital. The Turtle Hospital is open 24/7 and specializes in the rescue and rehabilitation of sea turtles. Students learned about the effects of pollution and human impact on our turtle population and what we can do to help with conservation efforts to protect all the different species of sea turtles. After the presentation, students were given a tour of the hospital and the current turtles that are there for medical care and rehabilitation. We were also allowed to adopt one of the resident turtles. Resident turtles were injured to the point where they will never be released back to the wild and are cared for at the facility.
We finished our night up with a dinner at Burdines Waterfront.
---
Ireland
We started out the day funneling to our bus after leaving one of the best hotels in Galway and began the journey up the winding roads of the countryside in County Clare; one hill was aptly named "corkscrew hill" because the road bent back on itself. We arrived at the Cliffs of Moher to a breathtaking view of waves crashing against the cliffs, and we could go into a nearby 19th-century tower that gave us a better view of the entire cliffside.
After the cliffs, we headed back towards Galway, where we visited a schoolhouse and a castle called Thoor Ballylee, which are both funded and run by the local community. The schoolhouse was a significant meeting place for writers and, most significantly, W.B. Yates, who lived in the nearby castle when he wrote his most famous poems, interestingly after he had already won the Nobel Prize. The castle had a creek running along the kitchen window, which was picturesque (perfect for a poet), and had a relatively more recent addition of a house connected to the still-standing castle tower.
Once finished at the castle, we had tea and cakes at a cafe halfway between Galway and Dublin. The return to Dublin ended with a nice take on American BBQ for dinner, which was good for anyone feeling a bit homesick. Overall, it was a fantastic day with moments of awe while at the cliffs and moments of downtime catching up on sleep while riding the bus back to Dublin. –Connor Crain, 11th Grade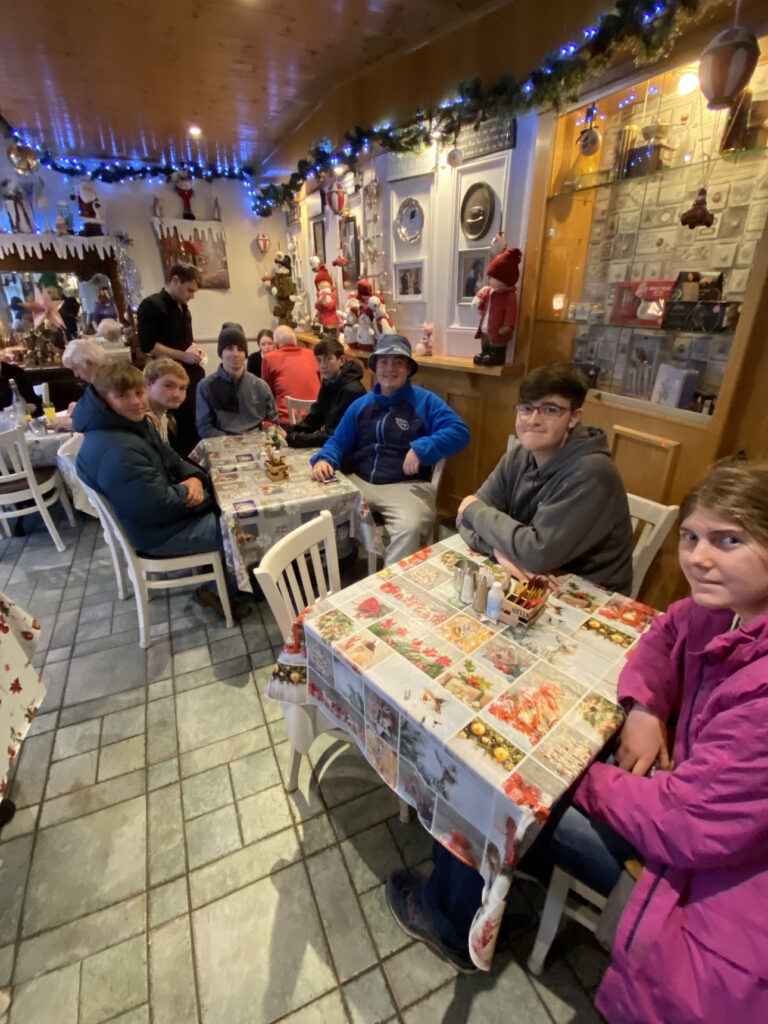 ---
Disney
The Disney Design Winterim had an epic day at Epcot! Students took the staff-only entrance through the back lots of the park to the Disney Imagination Campus. Students experimented hands-on with the inner workings of animatronics and then crawled in the dark backstage. To see the technology firsthand at both the American Adventure and Ratatouille! Students spent the afternoon on a global adventure, sampling everything from scones to sushi. Students explored the rides at the park, and some even had the chance to ride the new Guardians of the Galaxy ride!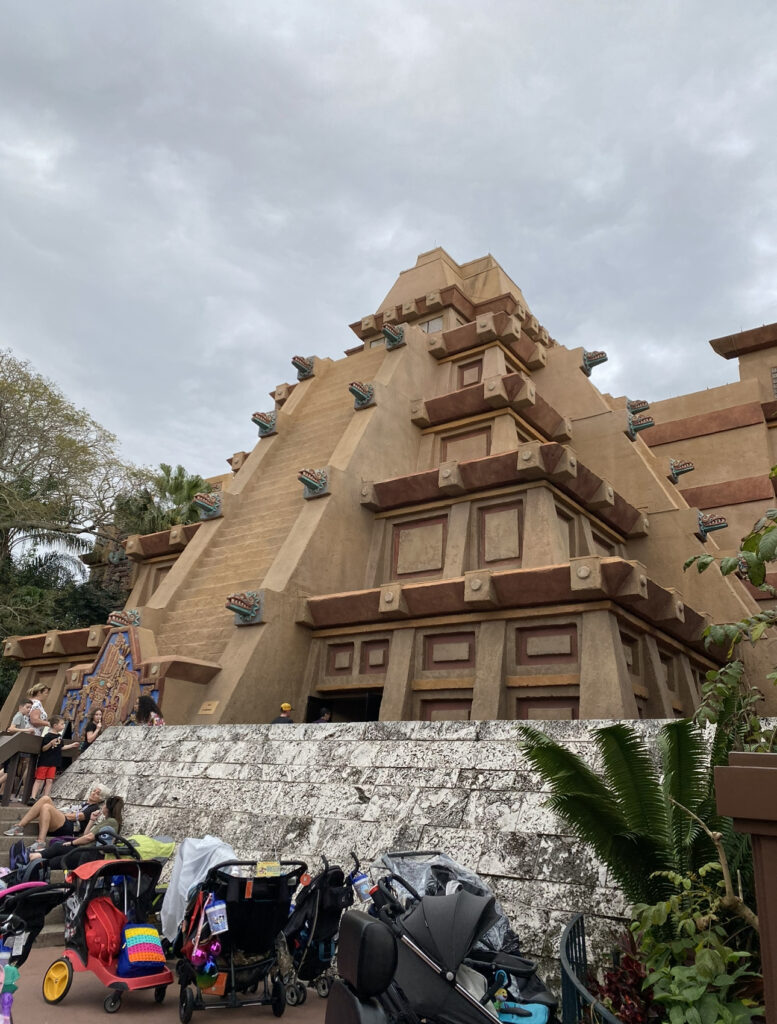 ---
Iceland
What a day here in Iceland with the Clarksville Academy kids!!
We started with a tour of one of the many lava tunnels around the island before we took things to a new level of adventure!!
We were snorkeling in the freezing waters at Silfra, in the middle of two tectonic plates. This is off-the-charts crazy and incredibly cold. The water temperature was 32, and the air temperature was 14. The kids and staff donned dry suits and braved the frigid waters for a once-in-a-lifetime experience they will never forget as they swam in the gap between the North American and Eurasian plates. We are now hoping everyone thaws out before dinner and our next adventures tomorrow.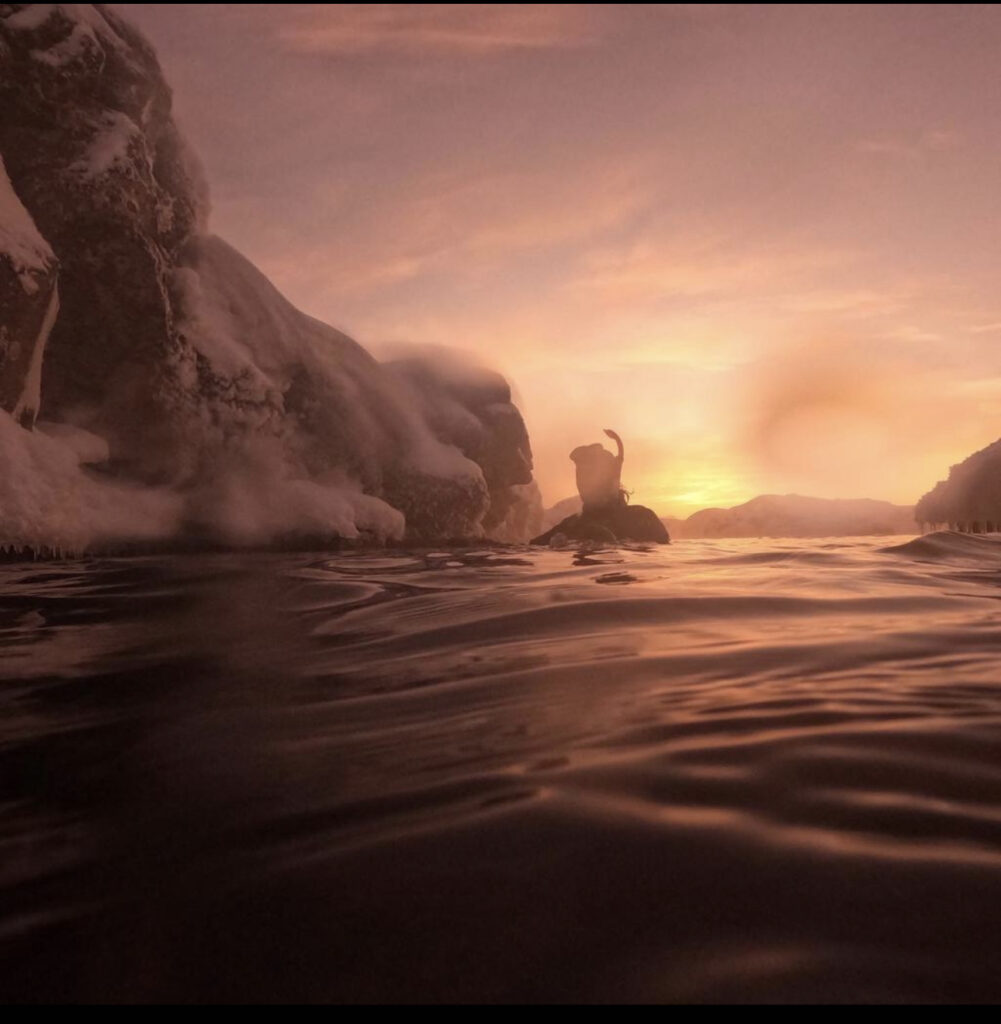 ---
GIS Center
We learned how to 3D print. We learned how to slice our figures to 3D print them. We also learned how to laser print photos onto wood. Next, we learned how to build a simple drone, which included screwing the motors to the drone's base. Finally, we did the drone flying simulator to help us with flying drones outside competitively the next day. –Devin Cheek, 9th Grade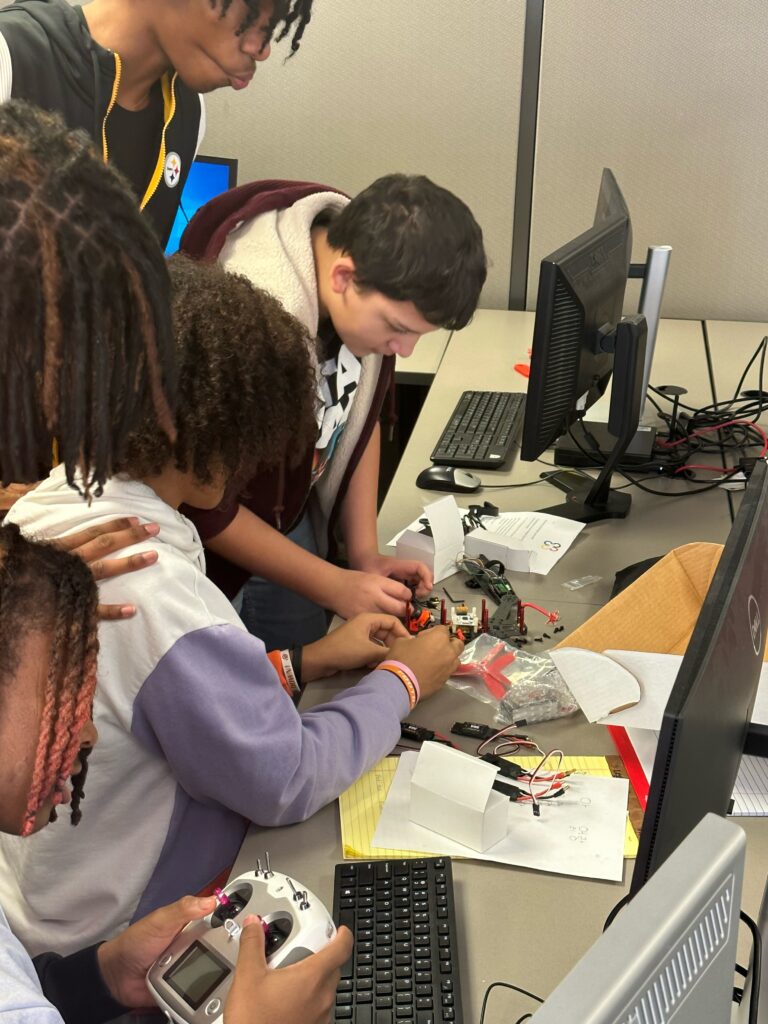 ---
Fitness
For our third day of Winterim, we met in my classroom as we have each day and ate breakfast while having a discussion. Shortly after, we went to Trifecta Fitness to participate in a strength training class. The class was a great workout and tested the whole body. After that, we took a break for lunch. After lunch, we took a break to get ready for a walk at Dunbar Cave Park. Dunbar is always a great place to run/walk, and it was no exception today with the great weather.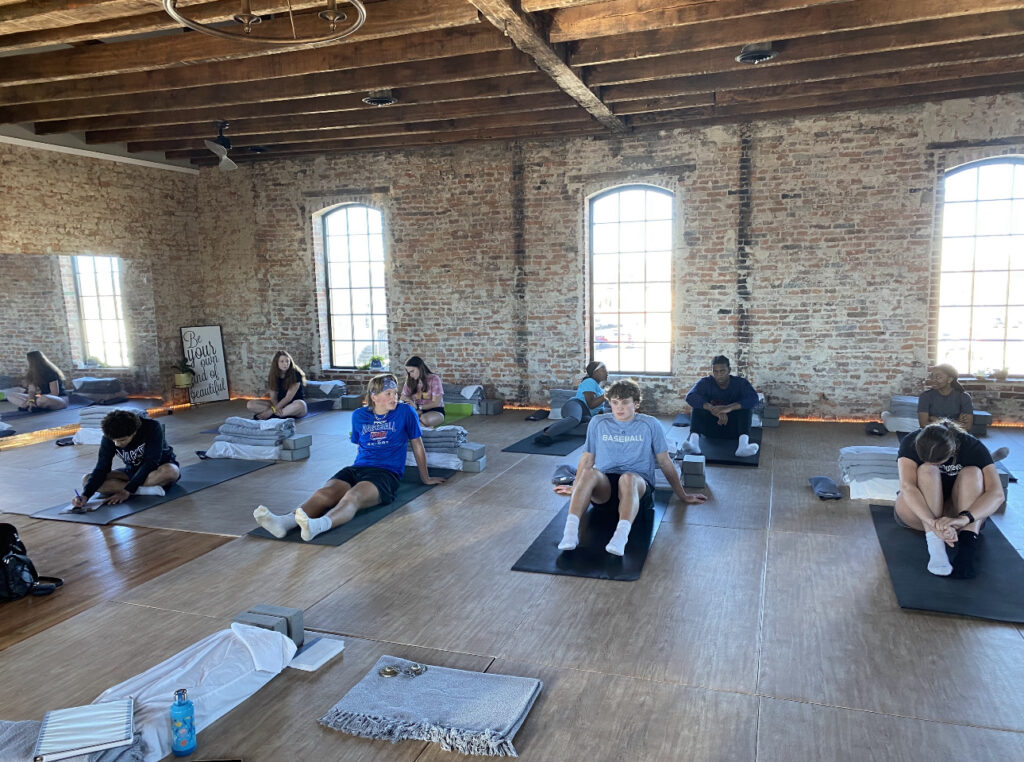 ---
Orlando
All had a super fun day with a trip back to Universal Studios and all things Jurassic Park, Harry Potter, and Marvel Comics! Our students were on a quest to ride all of the attractions as many times as possible with the roller coasters known as "The Hulk," "The Velocicoaster," "Revenge of the Mummy," "Hollywood Rip Ride Rocket," and "Hagrid's Magical Creatures Motorbike" at the top of the list! Wow! Wow! Wow! These rides were fantastic, and the laughing and screaming were nonstop, except for the wait times in line. No worries, though, as that was a perfect time for students and the chaperones to get to know each other better and further enjoy each others' company.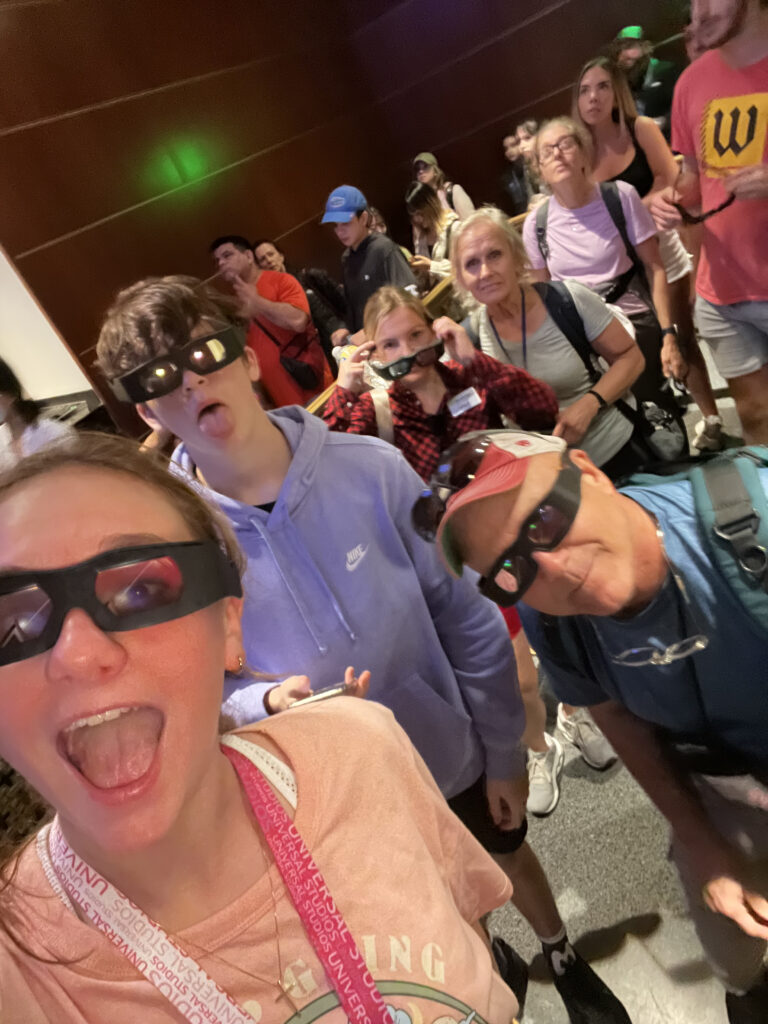 January 5, 2023
Iceland
The kids spent the morning running around Reykjavik on foot and scooters, enjoying some free time, and shopping for souvenirs and gifts.
In the afternoon, we traveled to take in, and explore the Kerid Volcanic Crater, formed 6500 years ago by an eruption. After a quick stop for cake and coffee, we finished our week with what was undoubtedly well deserved, a soak in the world-famous 'Blue Lagoon,' Iceland's largest geothermal hot spring. A week worth of fun and excitement leaves them with tired muscles that the Lagoon was able to soothe!!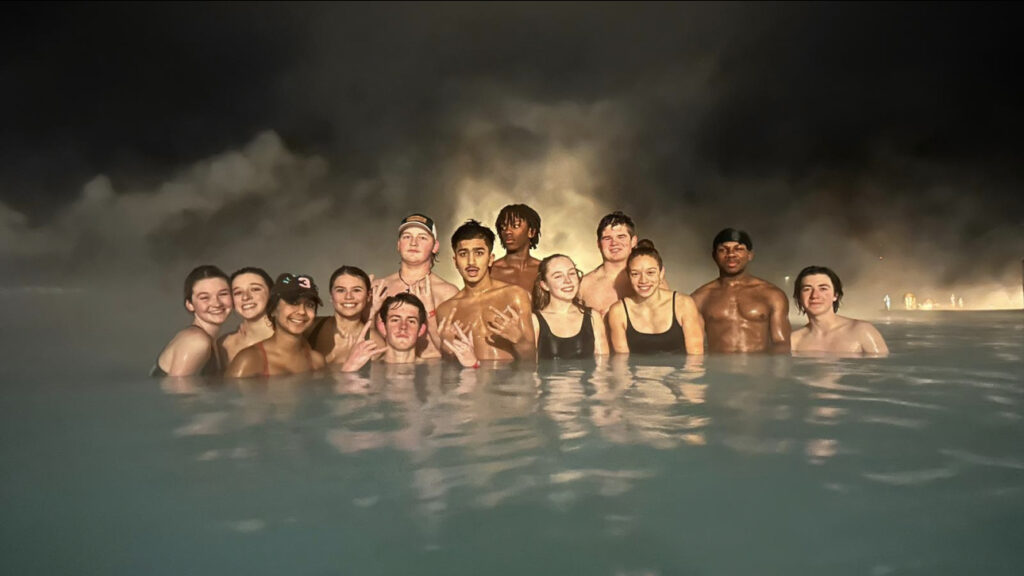 ---
Disney
Today students took a look at the Theme Park Design. Students analyzed the stories told by the Disney team. Students evaluated the various components of everything from Main Street to the backstage spaces that create the magic. Students then had the chance to work with a team, design their own three-dimensional theme park, and present it to the Disney Imagineers! We spent the afternoon exploring Magic Kingdom! We rode Space Mountain and Splash Mountain! We ate Dole Whip and purchased souvenirs! We're heading home tomorrow!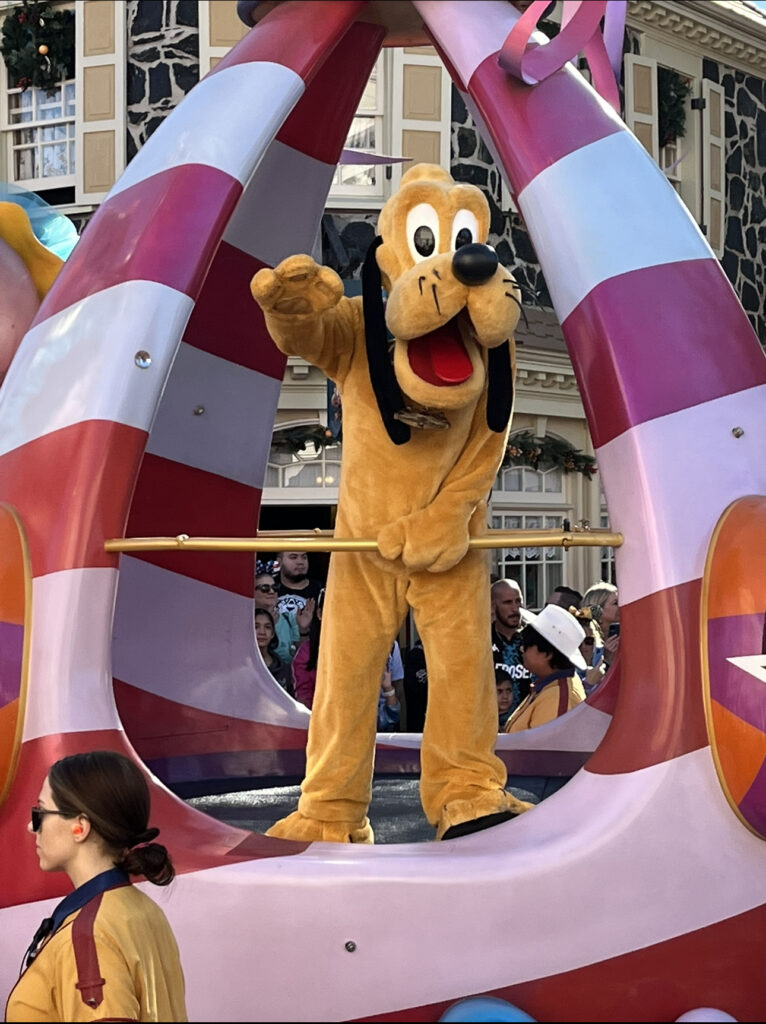 ---
GIS APSU
When we first started learning how to use drones for mapping and operations, this led us to learning how to create a flight plan for the drone to plan to. This would give the drone its flight direction. This leads you to set the parameters so you can complete the pre-flight checklist you go through before the drone takes off. After completing the checklist, we would input the distance and images into the drone. It would take pictures or videos while the drone is in flight. After bringing the drone back, we set up an obstacle course to race between the two teams with the drones. –Jacques Wyatt, Senior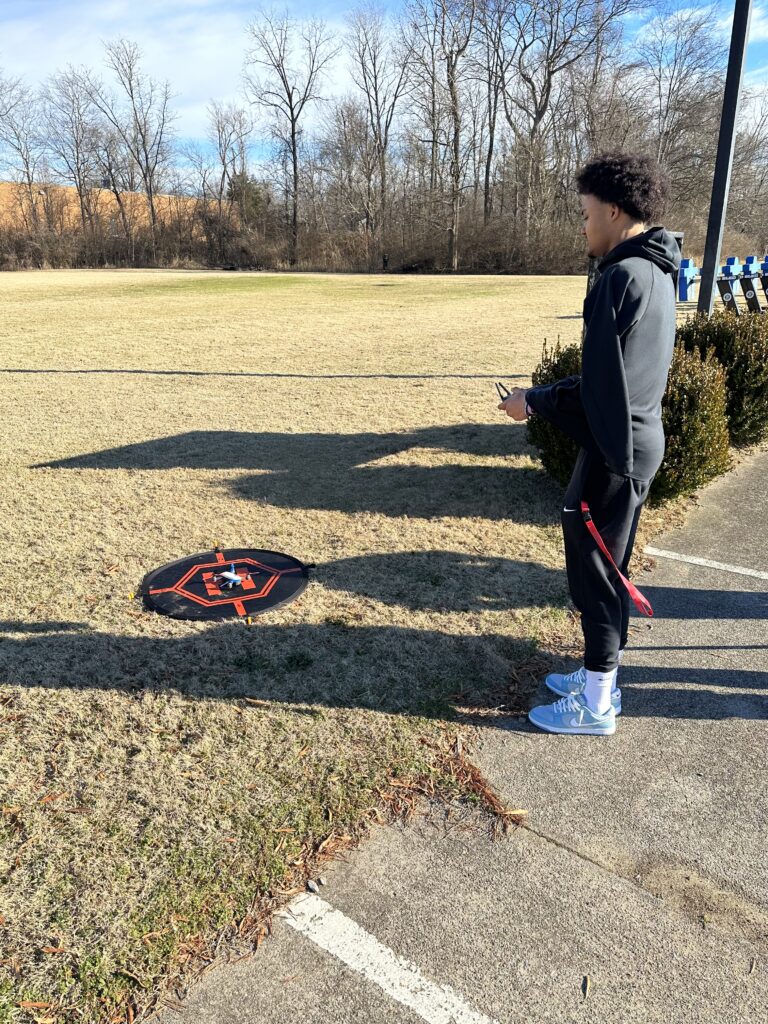 ---
Music City
We wrapped up our fun today by visiting the beautiful Belle Meade Plantation, which has many of the original home furnishings from the 1800s. It was so cool to see! We learned much about the Harding/Jackson family and their great thoroughbred horse breeding business. We had a fabulous southern cuisine lunch right on the property. Finally, we stopped at the Parthenon. Incredibly, Nashville is home to the world's only full-scale replica of the Greek Temple! It was vast and mind-blowing to see. We especially enjoyed the student art displayed on the second floor from the art contest winners. It was a gorgeous day out, so before we loaded up, we all could take one last stroll in Centennial Park to chat about our week of learning. We even fed the ducks and geese that live in the man-made pond "Lake Watauga." This was one of the best parts of all week!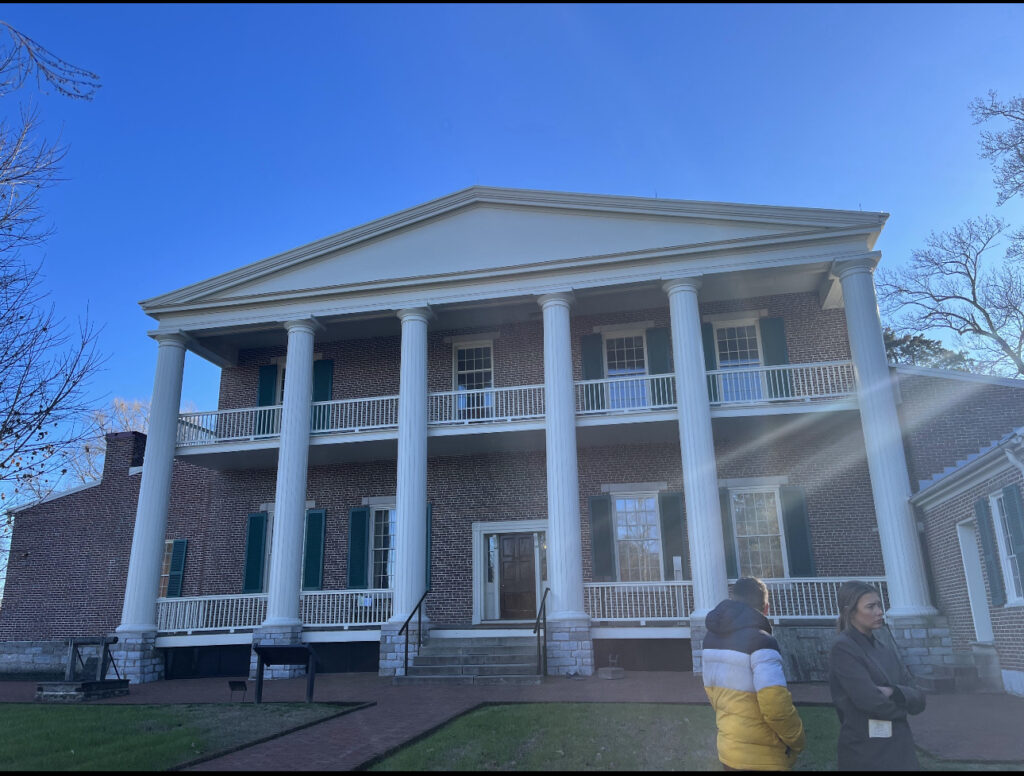 ---
Crafting
We wrapped up the week by painting our pottery and playing games. The students were so creative this week and seemed to enjoy the week. I think we will all miss being able to spend the days playing in paint and clay!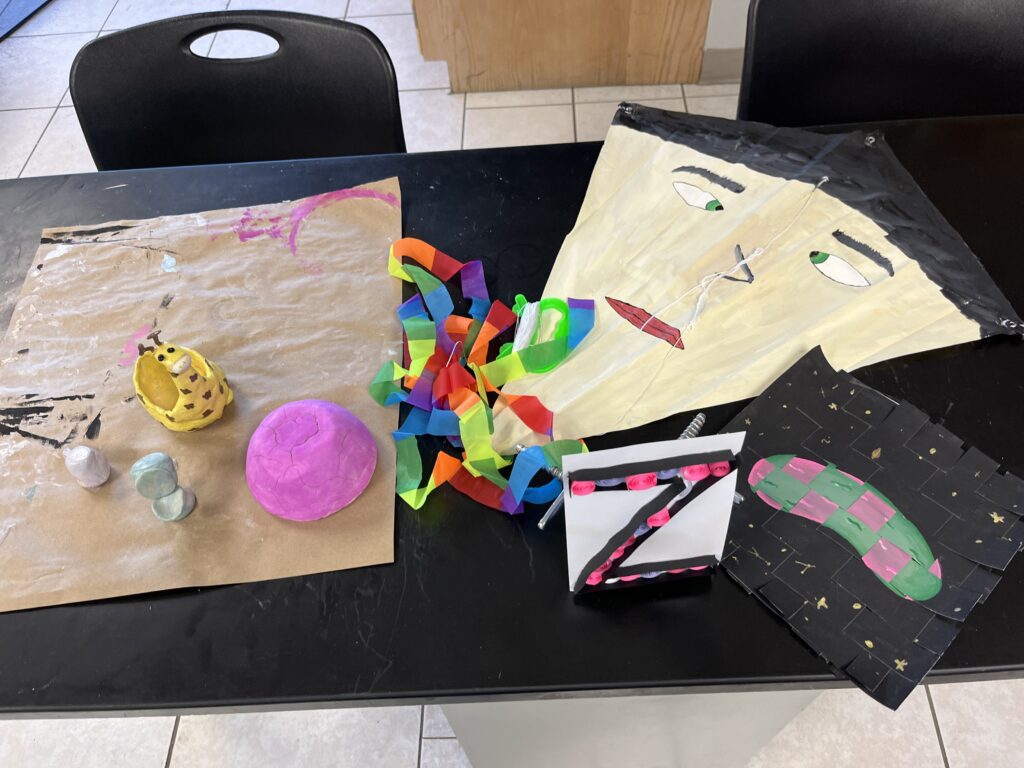 ---
Culinary
Today during our final day in culinary class, we created savory and sweet crêpes. Crêpes are ultra-thin French-style pancakes. They are very versatile and fun to use creatively. We made our crêpe batter and cooked each delicate pancake. Then, we made the fillings from scratch. We made a spinach filling for one of the savory crêpes. We also created a savory crêpe containing ham coated in breadcrumbs, then folded and fried. For our sweet crêpes, we used chopped strawberries covered in sugar and topped with fluffy whipped cream. To go along with our savory crêpes, we made a treat called popovers. Popovers are rolls made in muffin tins. Crêpes were a tremendous final lesson. It was interesting to have a dish that could work as dinner and dessert. I Enjoyed our class with Chef Kris and will miss learning and eating every day at Black Diamond Culinary School! –Nora Shea, 9th Grade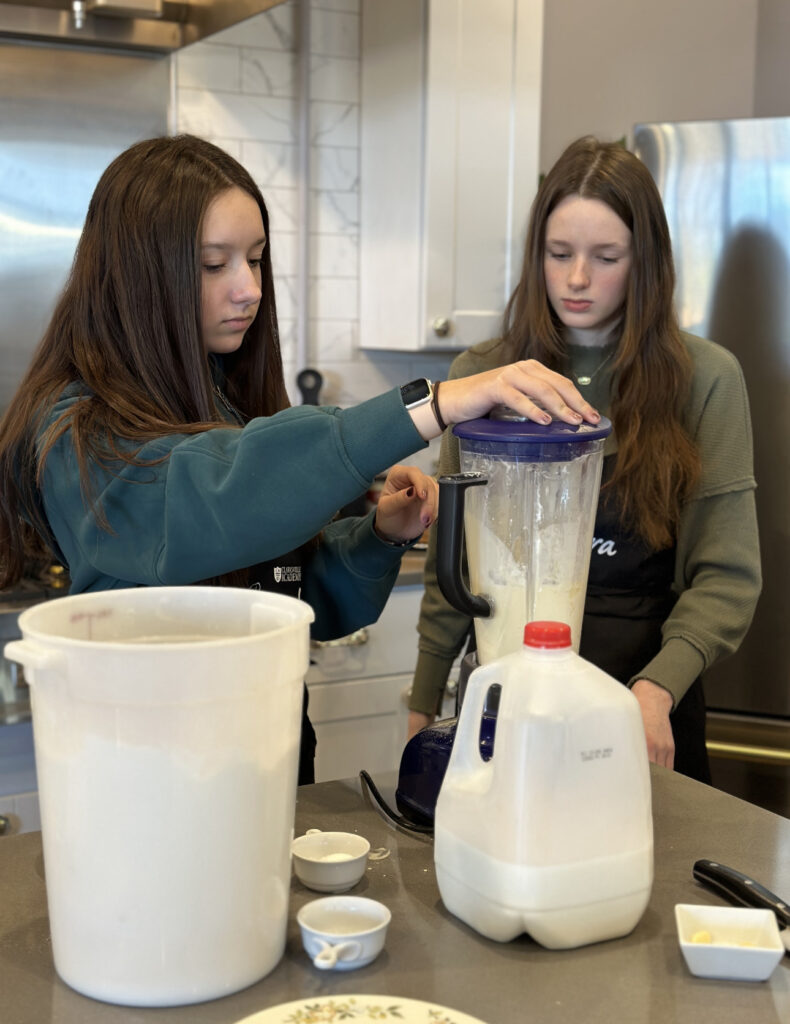 ---
Orlando
The culmination of our Winterim trip was our indoor skydiving lesson and STEM class with "iFLY"! This was one of the most anticipated events for our group, where the instructors gave us a course on the aerodynamics of free fall parachuting and proper body position while inside the air tube chamber. The Instructors did a fantastic job with all our students flying in a simulated free fall. Upon concluding, we had a late lunch at "Hard Rock Cafe" and then headed to the airport. It's been a wonderful trip with awesome course leaders, and our CA students had beautiful weather and fun times. We hope next year's Winterim will be just as fun!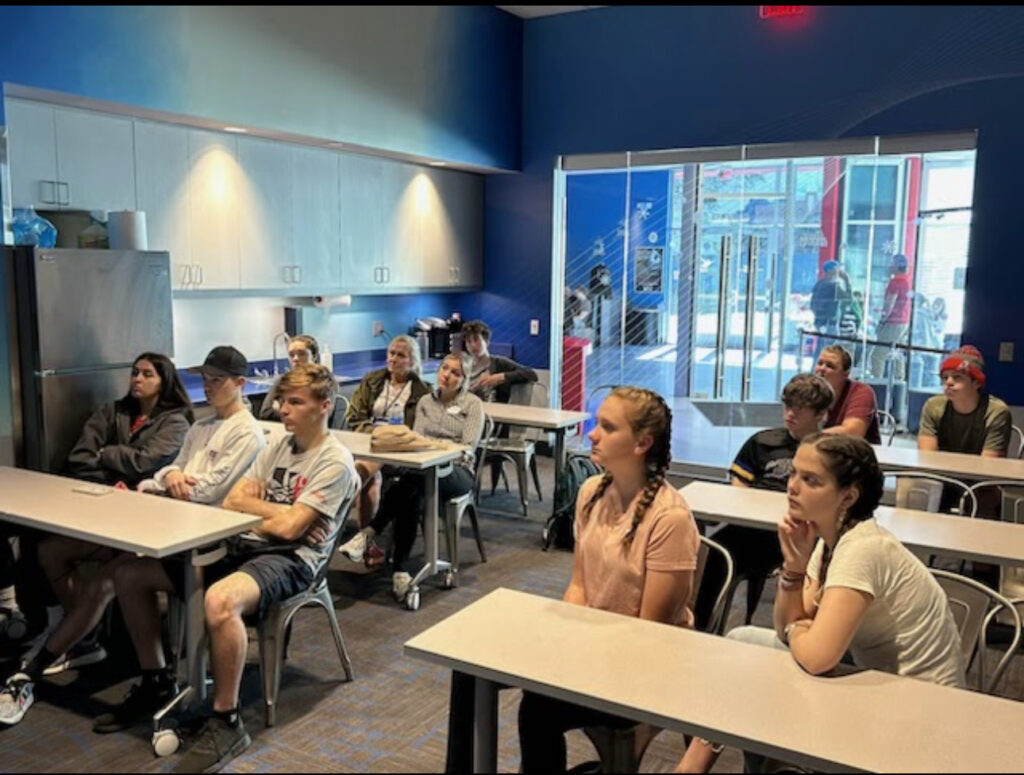 ---