---
Legacy Breakfast
Celebrating our Past, Present, and Future
Friday, February 10th, 2023 at 7:00am
---
If you want to have an impact today on the education of a CA student,
consider making a gift to the CA Annual Fund.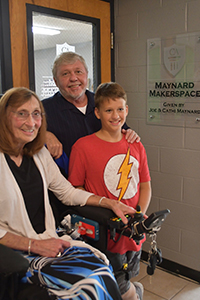 Clarksville Academy has given education and opportunity to hundreds of children over its 50-year history. It is now your opportunity to give back to CA. Your generosity will enable us to continue the strong academic, artistic, and athletic tradition of this institution. There are several ways to give to CA and each one is appreciated. Long term giving, like endowments or planned gifts, help us to plan for the future of Clarksville Academy. CA alumni and parents have donated money, time, and talent to make CA exceptional and the premier K-12 school in the Clarksville area. Your support today shows your belief in CA's mission to promote academic excellence, moral integrity, physical growth, and civic responsibility.
---
Ways to Give
Annual Giving:
The annual fund is the money raised from a nonprofit's annual giving campaign to cover operational costs. Annual Fund gifts can be spent as they come in, creating opportunities for learning and discovery and giving CA the flexibility to take advantage of emerging opportunities and to respond to unanticipated needs and challenges. They also provide our Head of School with resources to plan for CA's future. At Clarksville Academy, 80% of all tuition dollars are used for salaries of faculty and staff. The annual fund generates funds for special, but much needed, projects and supplies.
Why should you give? Gifts to CA help us to continue a tradition of teaching and providing our students with the tools they need to become active, successful members of our society. Your gifts encourage students to make the world a better place, knowing that they have a community of supporters behind them all the way.

Leading by example. Our full-time faculty/staff and Board of Trustees have all committed to giving to the annual fund. We value the commitment our alumni, parents, and friends make to CA and we feel it is important to show that through 100% participation from the leadership of our school.
Participation Matters. Every gift is important. Over 80% of our annual fund gifts come from gifts of $500 or less. These gifts have an immediate impact on our school and our students. Only you can decide what a meaningful gift is for your family.
Grandparent's Garden:
The Clarksville Academy Grandparent's Garden is an impactful way you can honor your grandchild(ren). Your gift today will have a lasting effect on their future. Bricks, landscaping, or naming a bench are possibilities in our garden. Please click here for more information.
Clarksville Academy Foundation:
The Clarksville Academy Foundation is a permanent, self-sustaining source of funding. Foundation assets are invested. Each year, a portion of the value of the fund is paid out to support the fund's purpose, and any earnings in excess of this distribution are used to build the fund's market value. In this way, foundation funds can grow and provide support for its designated purpose in perpetuity. The CA Foundation is made of individual Foundation gifts, Burden Scholarship, Procter Endowment, and more. Individuals, families, or groups can establish endowment funds in honor or memory of a loved one. When you establish an endowment fund, you create a permanent legacy of support for Clarksville Academy.
The Mabry Giving Society
The Mabry Giving Society named after Lawson and Beth Mabry honors their longstanding history with CA. Their children, Elizabeth ('17) and Will ('20) attend Wake Forest University. Both 13 year CA students were, very active in sports, various civic groups, extensive volunteer work, and leadership positions in various clubs.
Lawson and Beth exude the tenacity, determination, and heart to continue giving for future generations, thus establishing a cycle of giving through the Foundation. It is, for this reason, we felt inspired to honor them by creating the Mabry Giving Society. To join the Mabry Giving Society, a gift of $5,000 or greater should be made to the CA Foundation. Gifts can be made in the form of cash, check, pledge, stocks, insurance bequests, etc.
Giving Levels: Old Gold $25,000+, Society of 1970 $12,000-$24,999, True Blue $5,000-$11,499
Inaugural Members: James Corlew, Sr., Rob Holleman, Beth & Lawson Mabry, Bailey Martin, Cathi & Joe Maynard Family, John Mitchell, Shan Smith, Billy Walker, Helon McGregor Wyatt
Dan Burden Endowed Scholarship
The Dan Burden Endowed Scholarship is in honor of Dan's 39 years of service to Clarksville Academy. Dan has had a life long impact on CA and our students. His leadership in the math classroom, as Math Team Coach, and as an athletic coach are unmatched. This scholarship will allow us to continue to honor Dan's love and commitment to Clarksville Academy and it's students. Upon maturity, this endowed scholarship will help sixth through twelfth-grade students who demonstrate potential in academic proficiency and athletic excellence. You can give to the Dan Burden Endowed Scholarship here.
Laura Parks Endowment
The Laura Parks Endowment fund was established by the Parks family in memory of Laura Parks. Each year the interest from the Parks Endowment is used toward improving the student experience at Clarksville Academy.
Greg Procter Endowment
The Greg Procter Endowment was set up in 2015 as a way to memorialize Greg's love for Clarksville Academy. Greg was a 1976 graduate of CA and had three children and now two grandchildren attend here. Greg is a member of our Athletic Hall of Fame and in 2013 honored his father by naming our basketball court, Procter Court. Upon maturity, his endowment will offer scholarships to students who could not otherwise attend Clarksville Academy. You can give to the Greg Procter Endowment by clicking the donate button above.
Outright Gifts
CREDIT CARD: Make a gift using Clarksville Academy's secure site.
CHECK: Mail your gift to the Development Office, where all charitable contributions to Clarksville Academy are processed. Please make all checks payable to Clarksville Academy. You can use this mailing address:
Clarksville Academy
Attn: Development Office
710 N 2nd St.
Clarksville TN 37040
Download a pledge card (PDF format)
STOCKS, BONDS, AND MUTUAL FUNDS: Notify us of your plans to donate securities to Clarksville Academy.
MATCHING GIFTS: Ask your employer if they match gifts to non-profit organizations. Many major businesses will match your gift!
BANK DRAFT: With your authorization, Clarksville Academy can debit your checking account once per month in the amount you designate. Please contact the Development Office (931-647-6311) for more information regarding this.
PAYROLL DEDUCTION: Clarksville Academy employees can make charitable contributions to the school by payroll deduction. To sign up contact the Development Office.
PERSONAL PROPERTY: If you would like to donate personal property to Clarksville Academy, please contact the Development Office at (931) 647-6311. Some gifts require an appraisal or advance approval in order to be accepted. Examples of gifts of property include tickets to athletic events, rare books, artwork, and laboratory equipment.
REAL ESTATE: All gifts of real estate require prior approval by the school. A gift of real estate may be a principal residence or vacation home, a farm, a commercial building, a subdivision lot, or unimproved land. The gift may be the entire property or a fractional interest in the property. Contact the Development Office for more information (931) 647-6311.
Deferred or Planned Gifts: Your gift to Clarksville Academy can also be a useful financial planning tool.
LIFE INCOME GIFT: A life income gift, such as a charitable gift annuity or a charitable remainder unitrust, can provide you and/or your loved ones with an income for the duration of your lives or for a specific number of years. You receive a current income tax deduction as well.
CHARITABLE LEAD TRUST: These trusts can be used to transfer assets to a loved one with a significantly reduced tax liability.
BEQUEST: The most common form of deferred gift to Clarksville Academy is a bequest contained in a person's will or revocable (living) trust.
GIFTS OF RETIREMENT PLANS: Naming Clarksville Academy as a primary or contingent beneficiary of a retirement plan (e.g. IRA, SEP, 401(k), 403(b), ESOP, etc.) may enable you to make a larger gift than you anticipated because income and estate taxes are not imposed when plan assets are distributed to Clarksville Academy. Your retirement account's plan administrator (the company that manages the account) can help you designate Clarksville Academy as a primary or contingent beneficiary on the plan's beneficiary form.